From Elise Labott
CNN

WASHINGTON (CNN) -- The United States and Poland have reached a tentative deal to place part of a ballistic missile defense system on its territory, a plan that has drawn sharp objections from Russia, a senior administration official said Wednesday.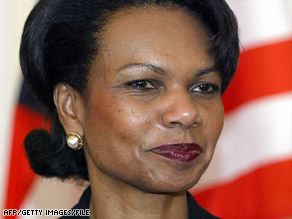 U.S. Secretary of State Condoleezza Rice was set to go to Poland to negotiate the missile system.
Poland's political establishment still has to sign off on the deal and determine the next steps, the official said.
The agreement came after several days of negotiations and less than a week before a planned visit by U.S. Secretary of State Condoleezza Rice and Defense Secretary Robert Gates.
The Bush administration has long pushed to base missile interceptors in Poland. The interceptor rockets would be linked to an air-defense radar system in the Czech Republic, where officials agreed in April to take part in the system.
The interceptors in the Czech Republic could identify and shoot down missiles fired by Iran at Europe or the United States. Russia fervently opposes basing the interceptors right across its border and says the system's real target would be Russian missiles, according to Time magazine.
The Czech Republic and Poland are former Soviet satellites, now members of the U.S.-led NATO alliance.
The United States has said the system is intended to defend Europe from a possible missile attack from the Middle East.
There was no immediate response from Moscow about the deal. But Assistant Secretary of State Dan Fried said the United States has taken to heart Polish concerns over more U.S. cooperation with Russia and NATO on the missile defense shield.
The United States has also agreed to help Poland modernize its military, which it requested as a condition of its support for housing the missile defense system.
Fried told reporters earlier that Polish negotiators were tough and came to the table with "serious suggestions and positions," but that the U.S. was "quite satisfied" with the status of the negotiations.
Fried called Poland a "magnificent ally" who has sent troops to Iraq and Afghanistan. He said the talks have been "strenuous" but that the United States understood that this was important to Poland.
E-mail to a friend

All About Russia • Poland • Missile Defense Agency