LONDON, England (CNN) -- DJ and pop star Boy George has been denied a visa to enter the United States, his Web site said Tuesday.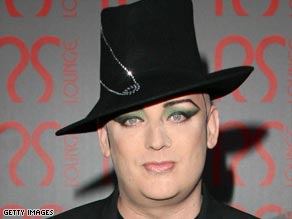 In 2007, George spent five days cleaning the streets of New York to fulfill a community service sentence.
U.S. immigration authorities denied the visa because George, 48, faces trial in November in London on charges of false imprisonment relating to an April 2007 incident, according to a statement from Boy George's management, posted on his site.
"George is astounded at the decision and is having his lawyers here in the States look at it in the hope that someone will change their mind," the statement read.
Boy George, whose real name is George O'Dowd, was charged in London last November with false imprisonment following a complaint from a 28-year-old man, police said. The incident happened in East London the previous April, police said.
George is free on unconditional bail and is not barred from traveling as he awaits trial, his management said. His upcoming schedule includes a series of U.S. club dates in July and August.
George is best known as the singer of '80s pop group Culture Club, with hits including "Karma Chameleon" and "Do You Really Want to Hurt Me?" He quit the band in 1987 and embarked on a short solo career before reinventing himself as a club DJ and launching a fashion label, B-Rude.
In August 2007, George spent five days cleaning the streets of Manhattan to fulfill a community service sentence for falsely reporting a break-in at his New York home. George's management said the denial of his U.S. visa had nothing to do with that case.
E-mail to a friend