LONDON, England (CNN) -- A second set of confidential papers on British terrorism policies were found on a train, The Independent reported on Sunday.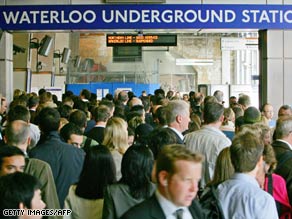 A member of the public found a set of papers on British terrorism policies at the Waterloo station in London.
A member of the public found the documents at the Waterloo station in central London and turned them over to the London-based newspaper, Simon Evans, a journalist at The Independent, told CNN.
The paper gave them to the Treasury Cabinet on Friday evening, Evans said.
The documents outline how trade and banking systems "can be manipulated to finance illicit weapons of mass destruction in Iran," The Independent reported.
The papers also describe methods to fund terrorists and address "potential fraud of commercial Web sites and international Internet payment systems."
The documents also include notes and draft speeches prepared for a week-long international financial crime conference in London, The Independent reported.
"There are some serious issues that shouldn't be left on a train," Evans said.
A spokeswoman from the UK's Treasury Cabinet, which handled inquiries about the incident, said the department is "extremely concerned about what has happened, and we will be taking steps to ensure that it doesn't happen in the future."
It's the second set of secret documents from the British government to be left on a train in less than a week.
Last week, a senior civil servant in the UK's Cabinet Office left two top-secret reports on al Qaeda and Iraq on a commuter train, the British Broadcasting Corp. reported.
A fellow passenger picked up the documents and gave them to the BBC on Wednesday. Police collected them from BBC Television Center that evening, the BBC said
One of the reports, on Iraq's security forces, was commissioned by the Ministry of Defense. It included a top-secret and in some places "damning" assessment of Iraq's security forces, BBC Security Correspondent Frank Gardner reported.
The other document, entitled "Al-Qaeda Vulnerabilities." was commissioned jointly by the Foreign Office and the Home Office.
It is just seven pages long but classified as "UK Top Secret," and is apparently so sensitive that every page is numbered and marked, "Australian/Canadian/UK/US Eyes Only," Gardner said.
Scotland Yard and Prime Minister Gordon Brown's office are investigating the security breach.
In November, the British government said it lost banking and personal information belonging to 25 million people.
The government said a junior employee at the Finance Ministry sent two computer discs containing the information to the National Audit Office by internal mail, which was unregistered, unrecorded and unencrypted.
E-mail to a friend

All About Cabinet of the United Kingdom • Al Qaeda • Iraq • Gordon Brown