From Mukhtar Ahmad
CNN
SRINAGAR, Indian-administered Kashmir (CNN) -- Pro-India parties have won enough seats in the state assembly to form a ruling alliance in Indian-administered Kashmir, according to tallies announced Sunday.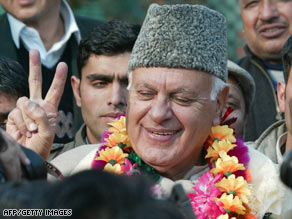 A National Conference party member flashes a victory sign Sunday in Srinagar.
The National Conference party and the Congress party together won 45 seats, one more than is needed for a simple majority in the 87-seat state assembly.
The two parties have started negotiations for an alliance so they can take power. The National Conference party won 28 seats, and Congress won 17.
"We are ready to align with the Congress party to form the next government," said Omar Abdullah, president of National Conference.
The seven-phased elections began in November, four months after India took direct control after the fall of a coalition government in the state. The elections ended last week, and vote-counting finished Sunday.
Kashmir, a Muslim-majority region divided between India and Pakistan and claimed by both, has been wracked by an 18-year separatist campaign that authorities say has left at least 43,000 dead.
Before the elections, violent protests were conducted by anti-Indian groups, fearful state elections would firm up Indian control of the area, and by Indian nationalists, fearful that separatist groups would gain control.
Separatist leaders had called for boycotting the elections, but many ignored that call.
India's election commission called the vote the "most credible election in the state."
The state's last coalition government fell after it announced it would transfer forest land to a Hindu shrine board that manages an annual pilgrimage. That move sparked huge protests by Muslim groups, and clashes erupted. When the government announced it was canceling the planned transfer, more clashes occurred.
Authorities said at least 45 people were killed in the violence, including a senior separatist leader, Sheikh Abdul Aziz, who was killed by Indian security forces.
Amid the lengthy election process, tensions soared between Pakistan and India, both nuclear-armed nations, when 160 people were killed in terrorist attacks in Mumbai, India, in November. India has alleged the attackers were trained at a terrorist camp in the Pakistani-controlled part of Kashmir. Pakistan has said the attackers were "non-state actors" and vowed to assist in the investigation.
Kashmir has been a point of contention between the two countries since the division of the subcontinent in 1947. The neighbors have fought two wars over the territory and narrowly avoided a third war in 1999.
Last week, tensions between the two countries escalated again with reports that Pakistan had redeployed troops on its eastern border with India.

E-mail to a friend

All About Jammu and Kashmir • India • Pakistan