BEIJING, China (CNN) -- China will provide 130 billion yuan ($19 billion) in financing over the next two to three years to Taiwan-based companies doing business in the mainland, the Taiwan Affairs Office of the State Council said Monday, the latest sign of warming ties between Beijing and Taipei.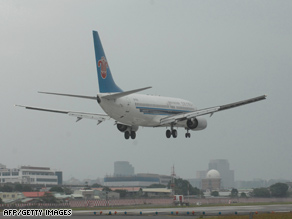 A China Southern jet lands at Taipei's Songshan airport on December 14.
The package includes 50 billion yuan ($7.3 billion) each from the Industrial and Commercial Bank of China and Bank of China, and 30 billion yuan ($4.4 billion) from China Development Bank.
The deal was the latest sign of improving relations between the two sides.
Regularly scheduled commercial flights, shipping and mail between Taiwan and China resumed last week for the first time since the 1949 revolution that brought the Communist Party to power on the Chinese mainland.
Taiwanese President Ma Ying-jeou has been cultivating ties with Beijing since winning office in March.
Ma, a Nationalist, opposes reunification with China but ran on a platform touting the economic benefits of better relations with the mainland.
In June, in the first formal talks between the two sides in almost a decade, Chinese and Taiwanese officials agreed to set up permanent offices in each other's territories.
Don't Miss
Taiwan separated from China after the communists' victory in the Chinese civil war in 1949. About 2 million Nationalists Chinese fled to Taiwan and set up a government there.
Beijing has always considered the island a part of China and has threatened to go to war should Taiwan declare formal independence.
Cross-straits talks between the two delegations began in 1993, a year after China and Taiwan informally agreed that the two sides belonged to "one China" -- although they did not describe what that meant, and both sides were free to use differing interpretations.
After that, the dialogue was delayed for five years over cross-strait tensions.
A second meeting in 1998 was held in Shanghai, but Beijing canceled a 1999 meeting when then-Taiwanese President Lee Teng-hui proposed that Taiwan and China treat each other as separate states.
E-mail to a friend

CNN's Yuli Yang contributed to this story.
All About Taiwan • China • Financial Markets • Asia