From Emily Chang CNN
BEIJING, China (CNN) -- Two Chinese destroyers and a supply ship will set sail for the Gulf of Aden on Friday to protect Chinese merchant ships from an increasing number of pirate attacks in the waters off the coast of Somalia, navy officials said Tuesday.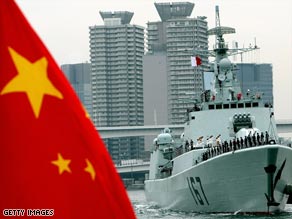 China has reportedly been working to rapidly modernize its fleet.
Two helicopters and special operations forces will also head to the region, the Chinese officials said.
Chinese media reported the plans last week. It will mark the first time that the country's naval vessels have left Chinese waters in centuries.
The Chinese ships will join a multinational naval force already patrolling the area, including vessels from the United States, NATO member states, Russia and India.
"This demonstrates that the Chinese government is committed to the international community and a responsible player and a major country in the world," Rear Admiral Xiao Xinnian told reporters.
Xiao also said the action "demonstrates the capability of the Chinese navy to deal with multiple security threats."
More than 124 incidents -- attempted attacks, avoided attacks and successful hijackings -- have been recorded to date this year in the Gulf of Aden, according to the Kenyan Seafarers Association. The Chinese officials said seven of those attacks were against Chinese ships.
Don't Miss
Around 20,000 oil tankers, freighters and merchant vessels pass along the crucial shipping route each year.
The U.N. Security Council passed a resolution one week ago allowing members of an international coalition force to pursue pirates onto land.
The military officials said the Chinese ships were prepared to handle the complex mission, which would require the ships to dock in several countries to resupply.
"We are fully confident the Chinese navy is capable of performing the operation," Senior Capt. Ma Luping said.
The officials said the mission would last as long as necessary and in accordance with U.N. Security Council regulations.

Watch how the initiative will be a test for China's navy »
The Chinese officials said they were "ready and willing to strengthen intelligence and information sharing" with the foreign ships, and their vessels were being deployed to escort Chinese ships -- including Taiwanese ones -- and would also protect ships carrying humanitarian supplies.
U.N. Security Council rules in the area call for ships from the international coalition to respond to attacks against other country's ships if they are nearby -- although the Chinese military officials did not specifically say if they would do so.
China's navy is considered a "brown-water fleet" -- designed to operate almost exclusively along its coast. But the country has reportedly been working to rapidly modernize its navy for the past several years.
E-mail to a friend

All About Pirates • Somalia • Horn of Africa • International Maritime Bureau