From Zein Basravi
CNN
ISLAMABAD, Pakistan (CNN) -- Supporters of a banned Pakistani charity being tied to last month's Mumbai attacks staged demonstrations in the federal capital of Islamabad and other cities on Friday protesting the shutting of the group.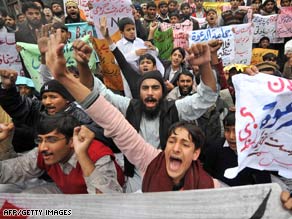 Activists supporting Jamaat-ud-Dawa chant slogans during a protest in Lahore on Friday.
The group is Jamaat-ud-Dawa (JuD), a popular group that provides social welfare programs to impoverished Pakistanis.
Pakistan banned it after the U.N. Security Council designated the charity a terror organization because of its links to Lashkar-e-Tayyiba, (LeT).
That's the Pakistan-based Islamic militant group India says was behind the killings of 160 people in the Indian city of Mumbai last month. India has blamed LeT for training the attackers who carried out the Mumbai attacks, but LeT has denied responsibility for the attacks.
Pakistan banned Lashkar-e-Tayyiba in 2002 after an attack on India's parliament that brought the two countries to the brink of war, and JuD was formed by the LeT founder after that banning.
About 200 supporters marched in a central Islamabad market area, with protesters chanting that the charity's members are "saviors of the needy" and called the government "cruel" for instituting the prohibition.
Don't Miss
"The government has closed offices and schools and hospitals," said Ali Butt, a protester from Pakistan-administered Kashmir. "In so many houses the ovens were burning only because of (JuD). Now they are all deprived."
Wheelchair-bound, Butt said he received aid from the group after the massive earthquake that rocked Pakistani-administered Kashmir in 2005.
"If someone is putting food in our mouths, can they be terrorists?" Butt said, adding, "I can't understand this."
Another protester said that the government should take responsibility for the country's poor if it chose to ban such groups providing help to the needy.
"We wouldn't take help from anyone if we could stand on our own two feet," said Noor Afsar, adding, "Why would we?"
The banning and the placing of JuD leader Hafiz Saeed under house arrest in Lahore sparked protests in that city and Peshawer too. Two hundred people took to the streets in Lahore.
Marchers say there's no evidence linking JuD to terror and said international pressure prompted Pakistan to institute the ban, being seen by some as an affront to Islam.
"Wherever there are Muslims, wherever there are people with beards, people who pray, they are labeled as terrorists," Afsar said.
"Are there not terrorists in other countries? Didn't this happen in our country, at the Marriott Hotel? -- a reference to the September attack in Islamabad that killed more than 50 people and wounded more than 250 others.
"Who did that?"
E-mail to a friend

All About Pakistan • India • Mumbai • Jammu and Kashmir • Lashkar-e-Tayyiba