BANGKOK, Thailand (CNN) -- Thailand's King Bhumibol Adulyadej gave his blessing to a new government led by Democrat Party leader Abhisit Vejjajiva on Wednesday, with the new prime minister pledging to end months of upheaval.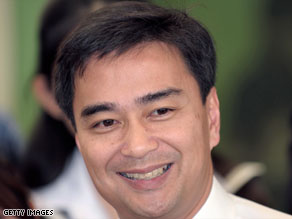 Abhisit Vejjajiva has pledged to revive Thailand's sagging economy.
The Oxford-educated, 44-year-old Abhisit won office Monday, winning the support of parliament with the help of members of the former ruling coalition.
In an interview with CNN, Abhisit pledged to revive Thailand's sagging economy and reconcile with the opposition after a tumultuous period in the country's politics.
"I would say it is my intention to lead Thailand out of the current crisis, to bring unity back to the country, to make our economy recover, welcome back foreign investors and tourists," he said. "And we are going to move ahead and bring back the 'Land of the Smile.' "
Thailand's recent woes date back to a 2006 coup that ousted then-Prime Minister Thaksin Shinawatra and culminated with the December 2 court ruling that found Thaksin's ruling party guilty of electoral fraud and threw his brother-in-law out of the prime minister's seat.

Watch Abhisit Vejjajiva talk to CNN »
That ruling came after more than two months of sit-ins by opponents of Thaksin's ruling People Power Party, which regained office in 2007 elections.
Talk Asia
Watch CNN's Dan Rivers interview Abhisit Vejjajiva

Wednesday, December 24: 14.00 GMT (22.00 Hong Kong)
Thursday, December 25: 08.00 GMT (16.00 Hong Kong)
Saturday, December 27: 15.30 GMT (23.30 Hong Kong)
Monday, December 29: 03.00 GMT (11.00 Hong Kong)

Demonstrators occupied the headquarters of the government and blockaded Bangkok's major international airport, stranding throngs of tourists who provide much of the country's revenue.

"We have every intention of demonstrating that we have learned the lessons of the past," Abhisit said. "And I'm sure that all Thais have regretted about airport incident. And we won't allow that incident to happen again, and it's time to get our house in order."

The parliament named Abhisit prime minister after some members of the former ruling coalition broke ranks to support him.

But his accession was met with angry protests by Thaksin's supporters, who threw rocks and chunks of pavement at lawmakers leaving the session.

Abhisit said the reaction "wasn't unexpected."

"And again, it just emphasizes the need for the government -- the new government -- to have a grand plan for reconciliation," he said.

Thaksin, who had been accused of corruption, fled the country after the coup. He did not resume office when the PPP won new elections, and fled again to avoid prosecution.
In the meantime, Thailand's Constitutional Court forced out Prime Minister Samak Sundaravej in September, finding the PPP leader had violated the constitution by appearing as a paid guest on a television cooking show.
Samak was replaced by Thaksin's brother-in-law, Somchai Wongsawat, who immediately found himself beset by opposition demonstrations that accused him of leading a proxy government for Thaksin.
E-mail to a friend

-- CNN's Dan Rivers and Kocha Olarn contributed to this report.
All About Thailand