From Iqbal Athas
CNN
(CNN) -- Tamil Tigers claimed on Wednesday killing 130 government troops and wounding 300 others during heavy fighting in northern Sri Lanka.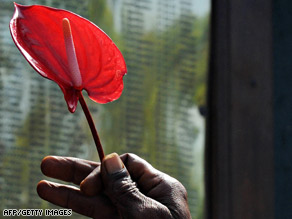 The relative of a deceased Sri Lankan soldier holds up a flower at a memorial in Ambepussa on Saturday.
Tuesday's battle was reported on the rebel-linked Web site TamilNet.com and comes a day after the government claimed to have killed 120 rebels, while losing 20 of its own troops.
In the past, both sides have exaggerated their accounts of military operations.
Government forces have engaged rebels in heavy fighting for months in the Kilinochchi region, once the center of political power for the Tamil Tigers. The 25-year civil war between ethnic Tamil separatists and the Sri Lankan government has left more than 65,000 people dead.
The Tamil Tigers were founded in 1976, and the U.S. State Department designated the group a foreign terrorist organization in 1997. The rebels, formally known as the Liberation Tigers of Tamil Eelam (LTTE), are fighting for the creation of an independent nation, citing discrimination by the country's Sinhalese majority.
E-mail to a friend

All About Sri Lanka