BANGKOK, Thailand (CNN) -- Thailand's parliament chose opposition leader Abhisit Vejjajiva as the country's new prime minister Monday, drawing angry protests from supporters of the recently dissolved ruling party outside.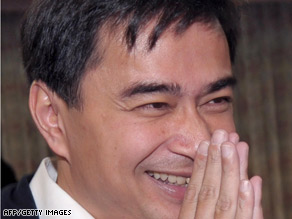 Thai opposition Democrat Party leader Abhisit Vejjajiva became the country's new prime minister Monday.
About 150 supporters of the former People Power Party, which was tossed from office by a Constitutional Court ruling earlier this month, threw bricks and chunks of pavement at departing vehicles. Police in riot gear struggled to hold back the crowd as they attacked cars leaving the compound.
Bunranaj Smutharak, a spokesman for Abhisit's Democrat Party, said he was unsurprised by the protests.
"It has been known for quite some time that if the incumbent government loses the vote, it will resort to violence," he said. However, he added that the incoming prime minister "needs to send a clear signal of change that he is a leader who will reach out to all."
"We are confident the long turmoil over the past two years will be brought to an end by this change in government," he said. "What we set out to do is reunite the country."
The recent policital turmoil in Thailand dates back to the 2006 coup that overthrew Prime Minister Thaksin Shinawatra, the PPP leader.
Thaksin returned to Thailand after the PPP won new elections in 2007 but did not resume office and has since left ahead of possible prosecution on corruption charges. Red-shirted Thaksin supporters led Monday's protests outside parliament.

Watch protests outside Thailand's parliament »
In September, the Constitutional Court forced out Prime Minister Samak Sundaravej, finding the PPP leader had violated the constitution by appearing as a paid guest on a television cooking show. He was replaced by Thaksin's brother-in-law, Somchai Wongsawat, who immediately found himself beset by opposition demonstrations that accused him of leading a proxy government for Thaksin.
Demonstrators staged sit-ins at the headquarters of the government and blockaded Bangkok's major international airport for a week before the December 2 ruling from the Constitutional Court that dissolved the PPP.
The ruling found the PPP guilty of electoral fraud, dissolved the party and barred Somchai from public office for five years. The PPP reorganized as the Puea Thai party, which was created by PPP supporters ahead of the court ruling. It still held the largest bloc of seats in parliament, but enough members broke ranks to give Ahbisit's coalition a 235-198 majority.
The new government will formally take office when it receives the blessing of Thailand's King Bhumibol Adulyadej.
E-mail to a friend

CNN Correspondent Dan Rivers contributed to this report.
All About Thailand • Bangkok • Thaksin Shinawatra