ISLAMABAD, Pakistan (CNN) -- Britain's prime minister Sunday asked India and Pakistan to allow UK police to interview Mumbai siege suspects as he revealed the extent of Pakistan-based extremists' involvement in terrorism in his country.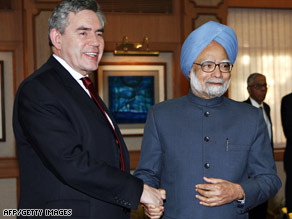 Britain's Gordon Brown meets with India Prime Minister Manmohan Singh before heading to Pakistan.
Gordon Brown, who met counterpart Manmohan Singh in New Delhi and Pakistan's President Asif Ali Zardari in Islamabad, said three quarters of the most serious terrorism cases investigated by British police have links to al Qaeda in Pakistan.
Brown said he asked both Zardari and Prime Minister Singh to allow British police to interview any Mumbai terror suspects arrested in their countries, saying "we all have an interest in discovering what lay behind the attacks."
He said he proposed to Zardari a new pact between Britain and Pakistan to "break the chain of terror that links the mountain of Afghanistan and Pakistan to the streets of the UK and other countries around the world."
It would be "the most comprehensive anti-terrorist program Britain has signed with any country," he said. "We will work to ensure that everything is done to make sure that terrorists are denied any safe haven in Pakistan."
"The time has come for action and not words and I want to help Pakistan and other countries root out terrorism."
More than 160 people -- including three with British passports -- were killed in the three-day Mumbai siege that started November 26. The 10 targeted sites included two luxury hotels, the train station and other landmarks.
Zardari said his government was investigating links between the Mumbai attacks and his country, but it is too early to know the results since Indian police are not finished with their probe.
Don't Miss
"I'm hoping that once the Indian government completes the investigation and shares their results with us we will have further leads to further find if there are any culprits on this side of the border. We shall take action against them."
Brown said his government would also provide information to the Pakistani investigators.
Zardari, in a joint news conference with Brown Sunday afternoon, renewed his pledge that Pakistan would fully cooperate with India's probe of last month's attacks, but he said it was too soon to conclude that its roots were in Pakistan.
Zardari also downplayed reports that two Indian fighter jets encroached on Pakistan's airspace Saturday, calling it a "technical incursion."
Relations between India and Pakistan deteriorated amid evidence that the attackers were trained in Pakistan.
The United States has sent a steady stream of officials to the region, including Secretary of State Condoleezza Rice last week.
Zardari suggested media preference for bad news has aggravated tensions and insisted "we want to have the best of relations with India."
While news reports in both countries have made much of a Saturday incident in which two India fighter jets flew "several kilometers" into Pakistani airspace, Zardari said it was "a technical incursion" that happened when two planes flying at high altitude feet turned and "slightly entered Pakistan soil."
Earlier, Pakistani Prime Minister Syed Yousuf Raza Gilani said his government is not concerned that India's Air Force might attack suspected terror camp sites in Pakistan.
Indian Air Force spokesman, Wing Commander Mahesh Upasani, completely denied there was an airspace violation in an interview with CNN sister network CNN-IBN.
He said the report was part of a disinformation campaign designed to divert attention from the main issues. "These allegations are utterly untrue and I would call them rather preposterous," Upasani said.
Before leaving India for Pakistan Sunday morning, Brown told reporters he had no doubts there was a connection between the Mumbai attacks and Lashkar-e-Tayyiba (LeT), a Pakistani-based terror group.
"We also know there have been arrests in Pakistan," Brown said. "We also know that the group responsible is LeT."
The only surviving suspect, identified by Indian police as 21-year-old Mohammad Ajmal Kasab, has written a letter to the Pakistan High Commission, or embassy, confessing to his role and seeking legal aid, a Mumbai police official said.
Indian investigators said Kasab is from Faridkot village in the Okara district of Pakistan's Punjab province and the other nine alleged attackers also are from Pakistan.
Pakistani officials have denied that assertion, blaming instead "stateless actors."
This week, Pakistani authorities banned a charity linked to the attacks and placed its leader under house arrest, Pakistan's information minister told CNN.
The move came after the U.N. Security Council designated the charity, Jamaat-ud-Dawa (JuD), a terror organization because of its links to Lashkar-e-Tayyiba and placed sanctions on the group.
E-mail to a friend

CNN's Zein Basravi and Bharati Naik contributed to this report.
All About Mumbai • Pakistan • Lashkar-e-Tayyiba