TAIPEI, Taiwan (CNN) -- Regularly scheduled commercial flights, shipping, and mail between Taiwan and China resumed Monday for the first time since the 1949 revolution that brought the Communist Party to power on the Chinese mainland.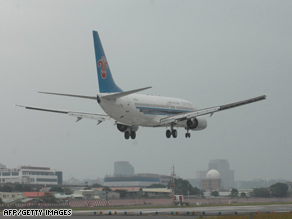 A China Southern jet lands at Taipei's Songshan airport on Sunday.
A flight from Shenzhen, China, to Taipei, Taiwan, landed about 9:00 a.m. Monday (8 p.m. Sunday ET), while the first flight from Taipei to Shanghai, China, departed at 8:00 a.m., Taiwan's Civil Aeronautics Administration reported.
Current plans call for 16 daily flights to or from Taiwan, the agency reported. Frequent charter flights began in July, but Monday marked the first formal service in nearly 60 years.
In addition, ceremonies were being held at seaports on both coasts as the first commercial vessels prepared to set out across the Taiwan Strait.
Taiwan separated from China after the communist victory in the Chinese civil war in 1949, with the defeated Nationalists setting up a government there. Beijing has always considered the island a renegade province and has threatened to go to war should Taiwan declare formal independence.
But Taiwan President Ma Ying-jeou has been cultivating ties with the mainland since winning office in March. Ma, a Nationalist, opposes reunification with China but ran on a platform touting the economic benefits of better relations with China.
E-mail to a friend