From CNN's Zein Basravi
ISLAMABAD, Pakistan (CNN) -- The founder of the terrorist group India blames for last month's Mumbai attacks has been placed under house arrest, a senior Pakistani government official told CNN.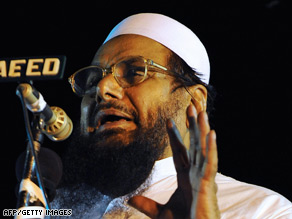 Lashkar-e-Tayyiba founder Hafiz Saeed addresses a rally in Islamabad on August 31.
The move comes after the Pakistani government banned his group, Jamaat-ud-Dawa (JuD), a charity affiliated with Lashkar-e-Tayyiba (LeT) which India blames for last month's Mumbai attacks.
Hafiz Saeed will be under house arrest at his residence in Lahore, Pakistan for three months as Pakistani authorities investigate the attacks that killed 160 people in India's financial capital.
Saeed founded LeT and is the leader of JuD. He spoke to journalists in Lahore at a televised news conference -- although his face was shielded from the cameras -- to address accusations that the groups were involved in the attacks.
LeT has denied responsibility for the Mumbai attacks, a three-day siege that left more than 160 people dead.
Saeed said the decision Wednesday by a U.N. committee to identify Lashkar leaders as terrorists was in haste. He said any evidence linking JuD to the Mumbai attacks should be presented by the Indian authorities.
"It is India's habit to name Pakistan," Saeed said. "Before they took ISI's name, now they take Jamaat-ud-Dawa's name."
ISI stands for the Inter-Services Intelligence directorate, Pakistan's spy agency. The United States has linked the ISI to involvement in previous terrorist attacks.
Saeed said the accusations against his group are propaganda and an attack on both Pakistan and Islam.
Indian Home Minister Palaniappan Chidambaram said Thursday: "I am ... able to say that the finger of suspicion unmistakably points to the territory of our neighbor, Pakistan."
Saeed, whose face was shielded by group of men who surrounded him during the news conference, also said he is certain the group will be cleared of any suspicion of involvement in the Mumbai attacks once evidence is submitted to the courts.
Don't Miss
He added that his organization is a humanitarian one with various projects throughout the country, including with schools and medical clinics. He also said there has been no government crackdown on his offices.
JuD will approach the International Court of Justice to clear its name, Saeed said.
The group says it aims to spread the true teachings of Islam and establish a "pure and peaceful society" by building the character of individuals according to those teachings.
India and the United States believe JuD is a front for LeT, which was formed after Pakistan banned LeT following the 2001 attack on the Indian parliament that brought the South Asian nuclear rivals to the brink of war.
The United States has listed LeT as a terrorist group with ties to Osama bin Laden's al Qaeda network.
E-mail to a friend