From Elise Labott
CNN
UNITED NATIONS (CNN) -- A U.N. committee has designated as terrorists four men believed to be members of the Lashkar e-Tayyiba (LeT) terrorist group suspected of masterminding last month's deadly attacks in Mumbai.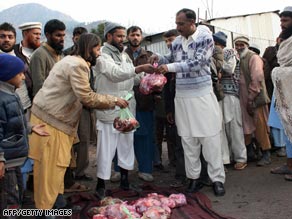 Pakistani Jamaat-ud-Dawa members, left, distribute sacrificial meat at their relief camp in Muzaffarabad.
The Security Council's al Qaeda and Taliban Sanctions Committee added to the list: group leader Muhammad Saeed, chief of operations Zakir Rehman Lakhvi, finance chief Haji Muhammad Ashraf and financier Mahmoud Mohammad Ahmed Bahaziq.
Bahaziq was also a former leader of the group in Saudi Arabia.
Individuals and groups on the list are subject to an assets freeze, travel ban and arms embargo.
The designation also covered all aliases and affiliates of LeT, including Jamaat-ud-Dawa (JuD), a charity formed after the ban on LeT which India and the United States believe is a front for the group.
Lahkvi was one of two LeT leaders arrested this week, Pakistani Prime Minister Yousuf Raza Gilani said earlier Wednesday. Zarar Shah, described as a top operational commander, also was arrested.

Watch how the arrests are not without controversy »
On Sunday, Pakistani forces raided a camp owned by JuD believed to be used for LeT training. The group says it used the site as an office for relief work in area hit by a major earthquake in 2005 but has not commented on the raid.
Gordon Dugiud, a U.S. State Department spokesman, said the United States was pleased the sanctions committee moved forward on "these high priority designations."
"These actions will limit the ability of known terrorists to travel, acquire weapons, plan, carry out or raise funds for new terrorist attacks," he said.
U.S. State Department officials said that although LeT is under investigation for the Mumbai attacks, the investigation into whether the freshly-designated members are involved is ongoing.
"These individuals have long warranted inclusion on the list based on their terrorist connection," one official said. "And they are known to have connection to terrorist groups being investigated for the attacks."
LeT has denied responsibility for the Mumbai attacks in late November that killed 179 people. All but one of 10 attackers were also killed. Indian police have said the sole survivor told them he was trained by LeT.
Pakistan banned the group in 2002 after an attack on India's parliament. The incident brought the two countries to the brink of war.
E-mail to a friend

CNN's Terence Burke contributed to this report.