ISLAMABAD, Pakistan (CNN) -- Pakistan's security forces have arrested the operational chief of Lashkar-e-Tayyiba, the Islamic militant group that India says was behind the recent killings of more than 160 people in Mumbai.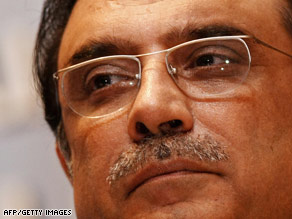 President Asif Ali Zardari vowed to crack down on "non-state actors" waging terrorism within Pakistan.
Pakistani forces arrested Zakir Rehman Lakhvi and Jaish-e-Mohammed chief Masood Azhar during raids on Monday, Defense Minister Choudhry Mukhtar Ahmed told CNN's sister network in India, CNN-IBN.
"President Asif Ali Zardari is determined that we must cooperate with India and we must take the people to task who have done thing, this operation," Ahmed said Tuesday.
More than a week after the Mumbai attacks, Pakistani security forces raided an LeT camp near Muzaffarabad, the capital of Pakistani-controlled Kashmir, on Sunday, according to Pakistani military sources.
It was the first sign of government action against Lashkar-e-Tayyiba since the attacks and came as Zardari vowed to crack down on "non-state actors" waging terrorism within its territory. Read more of Zardari's comments
Indian authorities say the sole surviving gunman in the Mumbai attacks told investigators that he was trained at an LeT camp near Muzaffarabad along with the nine other attackers who were killed in the three-day siege.
A Pakistani security official said the terror raids on banned militant groups, including LeT, are ongoing and have resulted in at least 15 arrests.
Don't Miss
According to the U.S. government, Lakhvi, 47, has directed LeT's military operations in southeast Asia, Chechnya, Bosnia and Iraq.
"Lakhvi instructed LeT associates in 2006 to train operatives for suicide bombings," according to a U.S. government statement. "Prior to that, Lakhvi instructed LeT operatives to conduct attacks in well-populated areas."
The United States has listed LeT as a terrorist group with ties to Osama bin Laden's al Qaeda network.
Azhar is the founder of Jaish-e-Mohammed, which -- like LeT -- is based in Pakistan and fights against Indian rule in the disputed Kashmir region.
Azhar is one of about 20 wanted militant leaders that India has demanded Pakistan turn over to New Delhi in the wake of the late November attacks on Mumbai. It has been demanding the extradition of some of those leaders since a 2001 attack on India's Parliament that brought the South Asian nuclear rivals to the brink of war.
The Pakistani defense minister called Azhar "a small irritant." Azhar has been in Pakistan since 1999, when he was released from an Indian prison in exchange for hostages aboard a hijacked Indian airliner.
Ahmed said Pakistan may allow India to interrogate the men under any joint investigation between India and Pakistan into the Mumbai attacks.
"But if we don't have a joint investigation team then it will be the Pakistani side which will be grilling them and finding out what wrong they have done," he said.
E-mail to a friend

All About Pakistan • Benazir Bhutto • India • Asif Ali Zardari