(CNN) -- India's top law enforcement official has admitted there were government "lapses" during last week's terror attack on Mumbai, amid outrage over security and intelligence failures.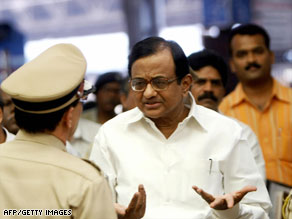 Home Minister Palaniappan Chidambaram admits there were government "lapses" during the Mumbai attacks.
"I agree security, intelligence failed," he told reporters Friday at a briefing in Mumbai, after touring some of the 10 sites targeted, including the landmark Taj Mahal Palace and Tower Hotel.
Chidambaram said Indian investigators have reconstructed the events of the three-day siege, according to CNN-IBN, CNN's sister network in India.
"I now have a better understanding of the terror attacks," he said. "I pay homage to those who have lost their lives."
Meanwhile, Indian Prime Minister Manmohan Singh said Friday the fight against terrorism must be intensified "anywhere in the world."
His remarks came at a joint news conference in New Delhi with Russian President Dmitry Medvedev, who is visiting India. The comments were posted on the Web site of India's Ministry of External Affairs.
Neither Singh nor Chidambaram blamed any specific group or country, although India alleges the coordinated attacks originated in Pakistan.
Pakistan's government has agreed to cooperate fully in the probe.
Don't Miss
According to Chidambaram, the crime unit of the Mumbai police is leading the investigation, with support from many agencies. He said he will make a full statement to the Indian parliament when the probe is over.
He likened the Mumbai attacks to the September 11, 2001, attacks in the United States, and stressed that Indians must become more aware of the potential for acts of terror.

Watch what was known about the scare »
"9/11 changed the U.S. 26/11 should change us ... change our attitude," he said.
The only claim of responsibility has been in an e-mail from a previously unknown group calling itself the Deccan Mujahedeen, which sources told CNN-IBN, CNN's sister network in India, originated in Pakistan.
"I conveyed to President Medvedev the sense of anger and outrage in India over the terrorist attacks in Mumbai. We deeply appreciate Russia's expression of solidarity with India at this moment," Singh told reporters.
"We both agreed that these attacks represent a threat to all open and pluralistic societies, and require a major intensification of efforts against supporters and perpetrators of terrorism anywhere in the world," the Indian leader said.
Singh called for greater cooperation between New Delhi and Moscow for global peace and stability.

Watch heightened anxiety after the attacks »
"There is much that India and Russia can do to enhance global peace, stability and prosperity, and bring about an international order that reflects contemporary realities," he said. India and Russia signed a civil nuclear cooperation pact during Medvedev's visit.
E-mail to a friend

-- CNN's Harmeet Singh contributed to this report.