MUMBAI, India (CNN) -- U.S. Secretary of State Condoleeza Rice was expected to arrive in New Delhi, India, on Wednesday, seeking to ease rising tensions between India and Pakistan in the wake of last week's deadly terror attacks.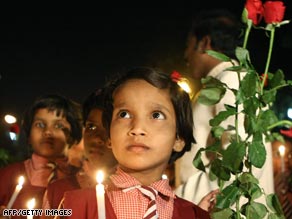 Indian schoolchildren hold flowers and candles in memory of those killed in the Mumbai attacks.
"I am going to, of course, express solidarity with the Indian people. This was a horrible attack. It was, of course, also an attack that killed American citizens. And it is therefore of very great concern to the United States," Rice told reporters Tuesday at the NATO headquarters in Brussels, Belgium.
A team of FBI agents was also in Mumbai to assist the investigation.
At least 179 people -- including six Americans -- were killed when a band of gunmen attacked 10 targets in Mumbai. Most of the deaths occurred at the city's top two hotels, the Oberoi and the Taj Mahal. The attacks sparked three days of battles with police and Indian troops in the heart of the city.
"Everyone should cooperate fully, and Pakistan in particular needs to cooperate fully and transparently," Rice said. "I was pleased to see the statements of the Pakistani government that they intend to do so, but that is the nature of my trip to India."
Her visit comes as Pakistani President Asif Ali Zardari told CNN's Larry King he believed the perpetrators were "stateless actors who have been operating all throughout the region."
"The state of Pakistan is in no way responsible," Zardari told King. "... Even the White House and the American CIA have said that today. The state of Pakistan is, of course, not involved. We're part of the victims, Larry. I'm a victim. The state of Pakistan is a victim. We are the victims of this war, and I am sorry for the Indians, and I feel sorry for them."

Watch Zardari discuss Pakistan's stance »
India has made clear it believes the coordinated attacks in Mumbai, the country's financial and entertainment capital, originated in its nuclear neighbor, Pakistan.

Watch as Mumbai tries to return to normal »
However, the Indian government is also under pressure to explain the lapse of security that allowed the siege to occur. Anger is rising among Indians, particularly in light of reports the government had been warned.
Regarding the warnings the United States reportedly gave to India, Rice said she didn't know the sources speaking on background.
"But we obviously -- we try to pass information to countries all around the world if we pick up information. But I'll tell you, having been on the receiving end of information sometimes which one could constitute as, 'warnings,' they are often difficult to act on, sometimes not very concrete."
Even with intelligence information, terrorism is not always preventable, she said.
At the center of India's probe was the lone suspect in police custody, who Indian authorities say is Pakistani and was trained by Lashkar-e-Tayyiba -- a Pakistan-based terror group allied with al Qaeda. The group has denied responsibility for the attacks.
However, U.S. counterterrorism officials say signs point to Lashkar-e-Tayyiba, and they haven't seen anything to rule it out. However, they will not definitively say the group is responsible.
U.S. Director of National Intelligence Michael McConnell said during an appearance Tuesday at Harvard University said the Mumbai attacks were carried out by the same group responsible for the parliament attack and a series of bomb explosions aboard trains and at railway stations in Mumbai in 2006 -- though he didn't specifically name Lashkar-e-Tayyiba.
Meanwhile, Mumbai's police chief said Tuesday that he never received a warning of an impending seaborne attack on his city.
"[The warning] that terrorists could arrive by sea was from an intelligence report of last year that only said terrorists could attack Gujarat or industries in the south," Hasan Gafoor said. Mumbai is located in Maharashtra state, which borders Gujarat state.
According to Indian External Affairs Minister Pranab Mukherjee, the 10 attackers hijacked a trawler in the Pakistani port city of Karachi -- about 575 miles (925 km) north of Mumbai -- and came ashore at Mumbai in dinghies. Gafoor said a global-positioning system, or GPS, found with the attackers showed they had come from Pakistan.
Intelligence officials told CNN-IBN that the captain of the trawler was found dead, lying face down with his hands bound behind his back. Four crew members who had been on board were missing, they said.
Gafoor said Indian officials will provide evidence backing their conclusions "once the investigation is complete."
India's Foreign Ministry on Tuesday briefed diplomats representing the countries who lost nationals in the attack -- including the United States and Britain -- about the ongoing investigation and the details of the attack, the ministry said.
On Monday, India told Pakistan that the attack "was carried out by elements from Pakistan" and "the government expects that strong action would be taken against those elements, whosoever they may be."
India also renewed its call on Pakistan's government to hand over a group of about 20 wanted militant leaders who have taken refuge in Pakistan. It has been demanding the extradition of some of those leaders since a 2001 attack on India's Parliament that brought the South Asian nuclear rivals to the brink of war.
The list includes Hafiz Mohammed, the head of Lashkar-e-Tayyiba. The Islamic militant group, now banned in Pakistan, also is blamed for the 2001 Parliament attack.
Topping India's most-wanted list is Dawood Ibrahim, who allegedly masterminded the 1993 Mumbai bombings that killed nearly 250 people. India is also asking Pakistan to hand over suspected terrorist Masood Azhar, who was released from an Indian prison in 1999 in exchange for hostages aboard a hijacked Indian airliner.
"We will await the response of Pakistan," said Mukherjee, the Indian foreign minister.
Pakistani Foreign Minister Shah Mahmood Qureshi on Tuesday proposed a joint investigation into the attacks, saying "this is not the time to point fingers."
"We are ready to help India," he said. "We need to make a common strategy to fight with a common enemy. We need to show we're serious."
E-mail to a friend

CNN's Ram Ramgopal, Harmeet Shah Singh and Nic Robertson contributed to this report.