(CNN) -- A suicide bomber on a bicycle detonated explosives Sunday near a car from the German Embassy in Kabul, a local police official said.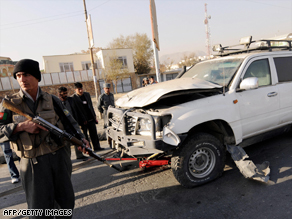 Afghan police secure the site of Sunday's deadly suicide attack in Kabul.
Two people were killed and three were injured, said Ali Shah Paktiawal, the police chief in charge of investigations for the city of Kabul.
The German embassy car was slightly damaged, but the occupants were not hurt.
It is not clear if the German ambassador was in the car.

Watch more about the attack »
The attack took place shortly after U.S. and Afghan forces announced they had killed 17 people they called "armed militants" in Afghanistan, and detained another 10.
One person was killed and 10 seized in one incident in Zadran district, south of Kabul, while 16 were killed in a second encounter in Sorobi district, east of the capital.
The Zadran operation Saturday targeted a militant associated with the radical Haqqani network who assisted foreign fighters, the joint statement said.
Don't Miss
He is thought "to coordinate and assist with the movement of Islamic Jihadist Union (IJU) and other foreign fighters into Afghanistan." He was among the 10 people detained, according to the statement.
The incident in Sorobi districted was aimed at what the Americans called a Hizb-e-Islami Gulbuddin "senior commander" who they said was "known to be heavily involved in the kidnapping of Afghan officials and innocent civilians, demanding ransoms to finance illegal activities. Intelligence also suggests he directs and facilitates roadside bomb attacks throughout eastern Afghanistan which indiscriminately kill and injure innocent Afghans and Coalition forces."
Sixteen people were killed in that operation. The press release did not name any of the targets of the operations.
There was no mention of casualties among Afghan or coalition forces.
E-mail to a friend

-- Journalist Erin Baker contributed to this report.
All About Afghanistan • Kabul