(CNN) -- Carol Mackoff and her family were rescued Friday morning after being trapped in their rooms in the Taj Mahal Hotel in Mumbai for more than 48 hours.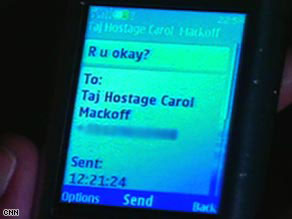 A text message from CNN correspondent Sara Sidner to Mackoff, who was in contact with CNN during the attack.
"They informed us the final assault was beginning and we got a call from the colonel of the [Indian] army, and he said we will give you a password and if we come to the door and give it to you, come quietly with us," Mackoff said. "That's exactly what happened."
Upon arrival, the Indian army rescued six people at a time, Mackoff said.
"It was only what we could carry," she said. "They took us down a back service stairway that was very quiet. We were tiptoeing through glass and blood and discarded shoes from people who it appeared had recently died."
Mackoff, her husband, sister and friend were on a three-week trip to India.
"In the beginning, we heard shots and we didn't know what was happening," she told CNN by phone. "We saw men running down our hallway and we could see through the peephole in the door -- we could see guns in their hands."
Mackoff said they received a call from hotel staffers telling them to stay away from the door and lock it. For 20 hours they sat in the dark. At one point they taped the peephole so nobody could see in.
The Chicago, Illinois, resident said the attackers rang their doorbell twice, but she and her family didn't answer.

Listen to Mackoff describe what it was like inside the hotel »
"We locked every possible lock on the door and put heavy suitcases against it," she said. "When the explosions started and smoke filled the hallways we put towels at the bottom of the door."
She said she was told that attackers opened doors across the hallway and had thrown grenades inside.
"All we were thinking was 'Please don't try and blow this door open,'" Mackoff said.
Mackoff said because of the hotel wing's large atrium, which reaches from the bottom floor to the top floor, the sounds of gunshots and explosions echoed and reverberated throughout the two days.
She said looking through the peephole she could see that most of the attackers were carrying backpacks.
"They were young and they all seemed to have the same kind of jackets and red and blue backpacks, that we were told officials believed were stuffed with grenades or some sort of explosives," she told CNN.
"We were able to see the barrel of their gun and at one point one of them had a cell phone and was conversing or coordinating with someone."
While she was trapped, Mackoff exchanged text messages with the U.S. Consulate, which coordinated the rescue with the Indian Army. The four were told the exact time they would be rescued.
Mackoff also kept in contact with CNN, including correspondent Sara Sidner, who was reporting from outside the Taj Mahal Hotel.

Watch Sara Sidner report on the rescue, talk about being Mackoff's lifeline »
A CNN staff member "kept me filled in on what was going on and I kept her filled in on what was going on -- on what I could hear," Mackoff said.
Those contacts were Mackoff's only lifeline to the outside. She said the satellite connection had been cut, so they couldn't watch TV to see what was going on.
Throughout the 48 hours they were trapped, Mackoff and her companions ate chocolate chip cookies from the minibar, health bars they had brought from home and cashew nuts.
Finally, when Mackoff and her family and friend were rescued, she sent a message to CNN to say she was safe.
"It doesn't seem real. You can't take it in," Mackoff said as she sat on a plane waiting to go home. "It's a surreal experience, you don't believe it really happened to you."
E-mail to a friend