By Lara Farrar
For CNN
SHANGHAI, China (CNN) -- For Dr. Xingyi Xu, the grass used to be greener on the other side.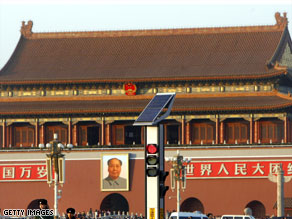 Clean technology is increasingly being given the green light in China.
Chinese engineer Xu spent a decade developing electric vehicle systems for Ford Motor Co. in America. In 2002, he decided to return to China to develop electric vehicle systems of his own.
"There are many guys like me," said Xu, founder of Shanghai Kinway Technologies, a small start-up specializing in motors for electric cars and manufacturing equipment.
"China offers a very good platform and environment for us to do innovation."
Xu represents a growing group of clean technology entrepreneurs in China who are forming a new part of the country's massive engine of economic growth -- a part that, like the motors Xu develops, is becoming increasingly energy efficient and environmentally savvy.
"This is the time to do something," said Xu, who hopes to get in on the ground floor of what analysts predict could soon be the biggest market for alternative fuel vehicles in the world.
"The demand is going to be here. The opportunity is here," Xu told CNN.
China: A better climate to grow green?
Xu usually works long hours testing and fine-tuning motors in his lab at an old industrial complex in Shanghai.
However lately he's been spending more time meeting with policymakers and investors from the West who are beginning to question whether China is becoming a better climate to cultivate new green technologies than the United States.
"America had better wake up to this likelihood," said San Francisco Mayor Gavin Newsom at a green technology summit last month in Shanghai aimed primarily at foreign investors interested in entering China's burgeoning cleantech industry.
Nearly half a dozen such conferences have been held in Shanghai and Beijing in recent weeks.
"If China takes advantage of their opportunity to move as aggressively as we know they can move, we will be left in economic dust," Newsom continued.
"It's no longer America leading the way and China reacting. It's starting to go the other way around."
Progressive environmental policies from the Chinese government combined with an increasingly green-minded public is fueling what some are calling a clean technology renaissance around the country.
The Chinese government is spending millions of dollars on clean energy initiatives ranging from the construction of charging stations for electric vehicles in several major cities to massive wind farms in Inner Mongolia and offshore in the Pacific Ocean.
In June there was a nationwide ban on plastic bags, and most recently Beijing announced it's committing an additional $1 billion over the next three years to environmental protection and related industries as part of an investment plan aimed at stimulating domestic growth amidst the global downturn.
Meanwhile there are local initiatives to restore wildlife areas that have been ravaged by the country's unprecedented growth and some provinces are now offering tax incentives for firms focusing on research and development rather than manufacturing as has been done in the past.
"There are big changes," said Ed Barlow, a senior analyst for CGiS, a China-based market consulting firm. "The government is aware there is a big problem, and they are aware of the scale of the problem."
"The government also has the political and popular will to do something about it," added Barlow. "And it has the money to do something about it."
U.S. and European advantages
However what China does not have yet have is the technological innovation that characterizes clean energy sectors in America and Europe.
While the country is one of the world's largest manufacturers of solar panels and wind turbines, many of the advances for solar and wind technologies are still largely coming from the West.
One factor that continues to dampen innovation in China is the country's weak protection of intellectual property rights.
The country also lacks a strong culture of venture capitalists willing to invest in Chinese start-ups that may be trying to develop new clean energy solutions.
Venture capital investment in China's green sector is increasing, however it still pales in comparison to the billions of dollars that are funneled into America's clean industries every year.
"China doesn't have a mature venture capital community," said Brian Fan, senior director of research for the industry research firm Cleantech Group. "In fact it is quite immature."
"There are a lot of veterans in the tech sector in the U.S. There is a lot of talent there that has done this already," added Fan. "I am not sure that China has that critical mass of talent yet."
Xu of Shanghai Kinway Technologies is working hard to become part of that critical mass of talent he says he knows his country needs to keep growing and to keep moving forward.
He's still searching for investors, making presentations almost everyday and hoping that someone will help him reach his Chinese dream -- a dream that for many in the country is becoming increasingly green.
"Things are changing," said Xu. "This is encouraging."
E-mail to a friend

All About China • Alternative Energy Technology