(CNN) -- Kia Scherr hasn't talked to her husband or her daughter yet, and she doesn't know if they are alive.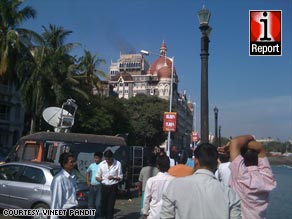 Vineet Pandit, 22, ventured as close to the burning Taj Mahal hotel as he could on Thursday to snap this photo.
All she knows is that the pair was dining in the Oberoi hotel restaurant in Mumbai, India, on Wednesday night when shots rang out. Last she heard on Thursday afternoon, her loved ones are still missing.
"I'm obviously still in shock," said Scherr, visiting family in Florida. "I'm wondering if my husband is still alive and if my daughter is doing OK, so I don't know what I want."
Naomi and Alan Scherr had come to Mumbai with a travel group for a high-tech meditation retreat with the Synchronicity Foundation, she said. They had been there since November 17 and were due to leave on Monday. iReport.com: See photos of the missing family members
The coordinated attacks on Mumbai frightened and concerned iReporters all over the world. Some were in Mumbai and others have loved ones there. iReport.com: Where you there?
Biswa Dash says he was on the phone with his wife while she was in her room at the Oberoi hotel during the attacks. Aparna Dash managed to escape her 26th floor room and take cover in a parking lot.
"Believe me, I was sitting at home completely helpless," he said. He is on the other side of the world, at home in Pittsburgh, Pennsylvania. iReport.com: Read about Dash's ordeal
Just before she left the building, Biswa Dash said his wife felt the building shake. She was unaware of what was going on at the time.
At one point, Dash could not get a hold of his wife. She briefly called back to tell him that her cell phone's battery was low. Biswa Dash text messaged his wife about every 30 minutes to check on her.
Finally, around 5 a.m. she made it to safety and was staying in a colleague's home in Mumbai, Biswa Dash said. His wife works for Hewitt Associates and was on a short-term assignment in Mumbai. Aparna later caught a flight back to New Delhi, where she had been working.
iReporter Andrea, an American tourist who asked CNN not to use her last name, had just eaten breakfast on Wednesday at the Taj Mahal hotel -- another building that had been attacked. She and her family are in Mumbai for her brother's wedding, which probably won't happen now.
Andrea has been staying in a hotel nearby the Taj and was close enough to hear the attacks on Wednesday night, she said. iReport.com: Take a look at what Andrea saw
"Over the course of the night, we heard maybe three explosions, some emergency vehicles, sirens," she said. "For the most part, the street was really quiet."
The strong military presence on the street provided her some comfort, she said.
Another iReporter, Vineet Pandit, was not near the scenes of the attacks, but he braved the chaos to snap some photographs on Thursday. The 22-year-old Mumbai resident saw the Taj Mahal hotel burning and noticed there was no traffic on the road, he said.
He said the terrorists are trying to get attention and prolong the situation. But, he thinks the people of Mumbai will continue to live their normal lives.
"We are not going to live our lives in fear because of these people," he said.
"This is just 25 terrorists," Pandit said. "We are a city of millions. Why should we let them scare us? They just want attention. That's the reason this has gone on so long."
E-mail to a friend