(CNN) -- Mumbai is India's financial capital, home to its largest port, and the heart of its famed Bollywood film industry.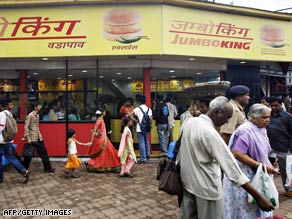 People walk on a street in Mumbai in September.
Some 11.9 million people live in the bustling city, according to the latest census from 2001, though the municipal government says up to 14 million may call the city on the Arabian Sea home, with thousands of migrants arriving daily.
Known as a city that never sleeps, with a thriving nightlife, Mumbai is also home to many cinemas, public markets, cricket fields, beaches, a large open-air laundry market and centers of worship (including Hindu, Jewish, Muslim and Parsis).
Mumbai has numerous museums and cultural sites, such as the Elephanta caves, which house ancient Hindu sculptures, and Victoria Terminus (Chhatrapati Shivaji Terminus), an iconic train station built by the British in 1888 to celebrate Queen Victoria's 50-year reign on the throne.
The city is a mix of the poor and rich, of slums and luxury hotels. It turns out 120 feature films a year, has four stock exchanges (including the third largest in the world), some 6,500 factories and is headquarters for major companies such as the Tata Group, Reliance and the State Bank of India.
Two of the city's most treasured hotels are The Taj Mahal Palace & Tower, built in 1903 along the Mumbai harbor and near the landmark Gateway of India, and The Oberoi, which overlooks the Arabian Sea and is located in the heart of the commercial district.
Don't Miss
The seven islands of Mumbai were given by the Portuguese to King Charles II of England in the 17th century as his marriage dowry. The sleepy peninsula, then home to fishing families, developed a booming textile industry that is still in place today, and the area has turned into an industrial hub that includes petroleum, pharmaceuticals, construction, silks and plastics.
Mumbai also was at the center of India's independence movement led by Mahatma Gandhi, who launched his "Quit India" declaration -- for the British to leave -- in the city in 1942.
E-mail to a friend

Sources: Bombay Chamber of Commerce and Industry, City of Mumbai government