(CNN) -- Manuela Testolini and her colleagues had just sat down to dinner at the Oberoi hotel restaurant in Mumbai, India, on Wednesday when the sound of gunfire erupted outside.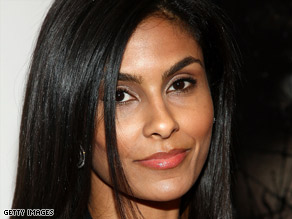 Manuela Testolini was in Mumbai on business when a series of brazen attacks broke out.
At first, they didn't know what it was. Then, one of Testolini's colleagues saw a man get shot to death outside the restaurant's front door, and everyone started to run.
"We left everything behind, including purses and phones," said Testolini, the ex-wife of music icon Prince and founder of In A Perfect World children's foundation. "There was a lot of panic."
Testolini said gunfire followed her as she and dozens more fled through the kitchen and down to the ballroom, where they found temporary refuge from the gunfire and grenades raining outside.
Testolini, a Canadian in Mumbai for business, was at the center of a brazen series of coordinated attacks in the southern part of the city overnight Wednesday.

Watch Testolini describe running from gunfire »
Gunmen rampaged through a series of targets in the commercial capital of India, killing indiscriminately and taking hostages at two luxury hotels.
Don't Miss
Testolini said she and 200 others waited in the dark ballroom for several hours, listening to the intensifying sounds of gunfire and grenades. Eventually, the hotel staff began evacuating guests 10 at a time, women and children first, to the street.
For a moment, she thought she was safe. But then, the gunfire returned.
"They were pursing us, and we ran, and we could hear them shooting at us," Testolini said.
Testolini and her colleagues eventually found shelter in an undisclosed location, where they are keeping up with the news on their BlackBerrys, waiting for signs that it's safe to move.
"We are far enough away to feel safe but close enough to feel what's going on," said Testolini, who was scheduled to leave Mumbai on Thursday afternoon. "We'll lay low till at least the daylight."
International hot lines
Australia: The Department of Foreign Affairs and Trade has set up a hot line for Australians with concerns for family or friends in Mumbai: 1800 002 214.
U.S.: The State Department has established a Consular Call Center: 888-407-4747.
UK: Foreign Affairs Ministry: 44 (0) 20 7008 0000.

There's no telling where Testolini would be had she been in her room at the Taj Mahal Hotel, where gunmen were holding hostages on multiple floors.

One witness told local reporters that gunmen stormed the lobby, demanding to know who had U.S. or British passports, and took about 15 people hostage.

Yasmin Wong, a CNN employee who was staying in the Taj, said she hid under her bed for several hours after she was awoken by gunfire.

Wong said she received a phone call from the hotel telling her to turn her light off, put a wet towel by the door and stay in her room until she was told otherwise.

Watch Wong describe the chaos in the hotel »
She complied, but then she went to her window and saw smoke and debris.
"I saw a guy outside the window above me who had smashed the window and was hanging out," Wong said. "At that point, authorities told us to run out of the hotel."
Wong said she passed dead bodies in the hotel's halls as she searched for an exit, finally leaving through the pool entrance.
"The main thing I thought was, was it going to end? And it just never ended," Wong said.
E-mail to a friend

All About Mumbai