KABUL, Afghanistan (CNN) -- Afghan President Hamid Karzai has defended his peace "overtures" to some Taliban militants but emphasized the fight against terror groups like al Qaeda must continue.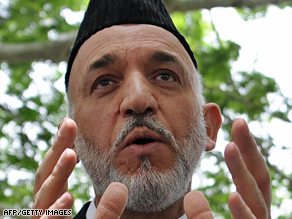 Afghan President Hamid Karzai has defended his peace "overtures" to some Taliban militants.
Karzai on Tuesday attempted to assuage the fears of a visiting U.N. Security Council delegation about his efforts in what was a wide-ranging assessment of concerns about the state of affairs in Afghanistan.
"Some of you are concerned, or perhaps a lot of you are concerned with my overtures to the Taliban, with my calls to the Taliban to join the peace process, and some of you are very concerned with my last call to Mullah Omar, that if he accepts the Afghan Constitution, and steps forward and declares that he wants peace for Afghanistan, and in Afghanistan, and he comes forward to seek residence that I will give him protection at any cost," he said, referring to the Taliban leader.
The Taliban -- the Islamic movement that governed Afghanistan and harbored the al Qaeda terror network that attacked the United States on September 11, 2001 -- was toppled from power by the U.S.-led coalition in late 2001 but has since emerged as a potent insurgent group.

Watch more about Karzai on the Taliban »
"This war has gone on for seven years. The Afghans don't understand anymore how come a little force like the Taliban can continue to exist, can continue to flourish, can continue to launch attacks with 40 countries in Afghanistan, with entire NATO force in Afghanistan, with entire international community behind them, still we are not able to defeat the Taliban," Karzai said.
Karzai broached the idea of a timeline to end the conflict that would include negotiations. He also noted the difference between al Qaeda and hard-line Taliban militants and members of the Taliban who are amenable to compromise.
"Afghanistan will do everything it can to provide the opportunity for peace and return to Afghanistan for those Taliban who are seeking peace and who have been frightened or forced into aggressive activity against us. This does not include the al Qaeda or other terrorist networks and I hope the international community will stand with us," Karzai said.
The Afghan president also raised concerns about the international provincial reconstruction teams and private security firms becoming "parallel" entities to local government and security forces.
In southern Afghanistan on Wednesday, coalition and Afghan forces killed 22 militants in two separate incidents, the U.S.-led coalition said.
Fifteen militants were killed and six people were detained in Anizai -- in Kandahar province's Zhari district. Troops had been clearing a suspected militant command site when militants fired at them. Troops returned fire and killed the 15.
In the Nahr Surkh district of neighboring Helmand province, militants fired on Afghan and coalition forces also conducting a clearing operation. The forces killed the seven when they returned fire. The forces found bomb-making materials, mortar rounds, and 175 pounds of opium in the area.
E-mail to a friend

All About Hamid Karzai • Afghanistan