KABUL, Afghanistan (CNN) -- Afghan President Hamid Karzai said President-elect Barack Obama assured him Saturday that the United States would send more aid and pay more attention to his war-torn country, according to Karzai's office, but Obama aides declined to confirm the call had included specific promises.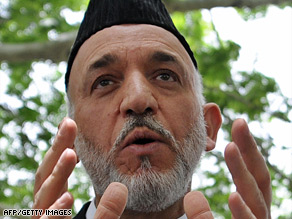 Afghan President Hamid Karzai says Barack Obama has promised Afghanistan more aid.
Obama and Karzai spoke by phone Saturday.
Karzai's office said Obama told him the United States was committed to helping the people of Afghanistan and bringing peace and stability to the country.
The Afghan president said he again congratulated Obama on his election and told him that he hoped his presidency would lead to prosperity for the American people, his office said.
Two aides in Obama's transition office declined to go into details about what, if anything, the president-elect had pledged to Karzai.

Watch more about Karzai on the Taliban »
Obama told Karzai he "looked forward to working together on Afghan security after January 20," according to one aide, but the incoming president stressed that "until then, there is one president, and it is President Bush."
Obama takes office January 20.
The incoming administration has been careful to show it is not stepping on the White House's toes or making any promises to world leaders.
The transition aide also noted that Obama was returning a congratulatory call from Karzai, so the incoming president did not initiate the conversation.
Obama made Afghanistan a key focus of his foreign policy during the campaign, saying that he would make it the central front in the war on terror if elected.
In an interview with CNN last July, Obama criticized Karzai's government, saying it "has not gotten out of the bunker and helped organize Afghanistan and [the] government, the judiciary, police forces in ways that would give people confidence."
A week after that interview, Obama met with Karzai in Kabul.
E-mail to a friend

Journalist Farhad Peikar and CNN's Ed Henry contributed to this report.
All About Hamid Karzai • Afghanistan