(CNN) -- Afghan forces and their allies killed 17 suspected militants in an air assault on what they called a "known insurgent safe haven" in Kandahar province, the Afghan government and the U.S. military said Sunday.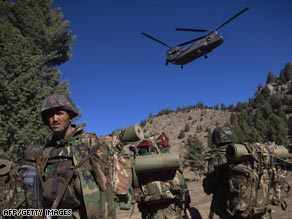 Afghan and coalition forces have killed 17 suspected militants in "known insurgent safe haven."
NATO forces in Afghanistan also announced they had killed a Taliban commander they identified as Mullah Asad.
Mullah Asad died November 19 in what the International Security Assistance Force called a targeted operation. ISAF said it had confirmed his death Sunday.
ISAF said he was a senior Taliban operational commander for Southern Helmand linked to attacked on Afghan army targets.
"The death of Mullah Asad will have a significant effect on the Taliban's ability to conduct operations," ISAF spokesperson Brigadier General Richard Blanchette said.
General Zaher Azimi, a spokesman for the Afghan Defense Ministry, described Mullah Assad as a mid-level Taliban commander.
ISAF also announced Sunday it had killed "two armed militants" and a female civilian on Thursday in Zabul province. It added that it had provided medical care to four wounded civilians, without specifying how they were injured or by whom. It said the incident was under investigation.
The Afghan and U.S. forces who attacked the insurgent safe haven in Kandahar province, meanwhile, came under-counter-attack.
"Insurgents fired on ANSF and Coalition forces with automatic weapons and rocket propelled grenades from multiple locations," the statement said, referring to the Afghan National Security Forces. "ANSF and Coalition forces returned fire," the statement added, "killing 17 militants."
During the operation the Afghan forces and their allies discovered and destroyed small weapons caches contained ammunition and supplies for making improvised explosive devices, the statement said.
No Afghan, coalition or civilian casualties were reported in the incident, U.S. and Afghan military sources said.
E-mail to a friend