From Iqbal Athas
CNN
(CNN) -- Sri Lankan security forces reclaimed a rebel-dominated town in the northern part of the island nation, a military commander announced Tuesday.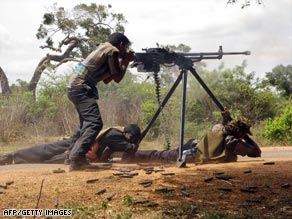 An undated picture shows Tamil Tiger rebels in Kilinochchi during a confrontation with the army.
The town of Mankulam -- about 187 miles from the capital, Colombo -- sits along the highway to Kilinochchi, once the center of political power for the Tamil Tiger rebels. In Kilinochchi, rebels ran their own quasi-administration with a makeshift police force, court, tax system and prisons.
Those institutions were dismantled after Sri Lankan forces launched a major military offensive to recapture rebel strongholds.
The takeover of Mankulam came less than a week after Sri Lankan troops recaptured the northern village of Pooneryn -- a significant strategic move that enabled troops to secure control of the west coast, preventing rebels importing supplies from the southern Indian state of Tamil Nadu, a military spokesman said.
The Tamil Tigers were founded in 1976. The U.S. State Department designated the group a foreign terrorist organization in 1997.
The fighting in Sri Lanka pits government forces in a country dominated by the Sinhalese ethnic group against rebels from the Tamil minority. The rebels, formally known as the Liberation Tigers of Tamil Eelam (LTTE), are fighting for the creation of an independent nation, citing discrimination by the Sinhalese.
In the past, both sides in the conflict have exaggerated accounts of military operations.
E-mail to a friend

All About Sri Lanka • Liberation Tigers of Tamil Eelam • Tamil Nadu