NEW DELHI, India (CNN) -- Five schoolchildren have died and 25 hospitalized in eastern India after drinking milk that may have been contaminated, an official said Friday.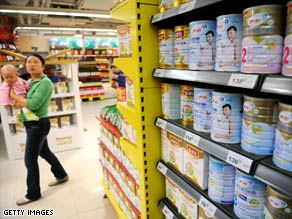 Over 53,000 infants in China were made ill after consuming infant formula containing melamine.
The children drank the milk at a hostel in the state of Jharkhand, eastern India.
Ten were hospitalized in a critical condition, said Sunil Singh, additional administrator of the state's Ranchi district.
All were teenagers who attended a state-run school on the outskirts of Ranchi, the state capital, he said.
Investigators are looking into the deaths and plan to determine whether someone may have added chemicals to milk. Livestock owners and milk vendors and suppliers sometimes add cheap chemicals to water down milk and increase quantity.
India has a federal law to guard against food contamination, but states are required to enforce it, said Dhir Singh, a senior official with the Prevention of Food Adulteration Division of the federal Directorate General of Health Services.
Don't Miss
There have been several dairy product scares across Asia in recent months, including one in China when more than 53,000 infants became sick after consuming infant formula containing melamine. Nearly 13,000 were hospitalized and at least four died of illnesses.
As a precaution, the U.S. Food and Drug Administration began to block imports of Chinese milk earlier this week in an effort to ensure that products contaminated with melamine do not enter the U.S. market.
It is not known if the incident in eastern India is to related to events in China.
The FDA listed dozens of products, including cereals, snack foods, cheese, ice cream, carbonated drinks, candy, puddings and pet foods as potentially contaminated with melamine, which is used in the manufacture of plastics and fertilizer.
The agency said that water is added to milk to increase its volume, and melamine is added to the mixture to boost its nitrogen content so that it appears to contain more protein.
E-mail to a friend

All About Food Safety • China • Food and Drug Administration