(CNN) -- A U.S. citizen was shot and killed Wednesday in northwestern Pakistan, police said.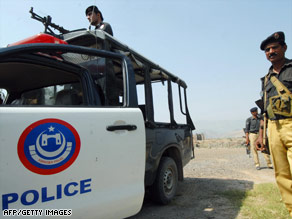 The North West Frontier Province has seen clashes between Pakistani authorities and Taliban militants.
The man worked as an aid worker, local media and police said.
He and his Pakistani driver were shot and killed about 9 a.m. (11 p.m. ET Tuesday), said Abdul Qadir Qamer, a senior police official in Peshawar, the city where the killings happened. Gunmen opened fire in the city's University Town area, he said.
The U.S. Embassy in Islamabad confirmed that a U.S. citizen and his Pakistani employee were killed. The deaths are under investigation, and the Embassy is coordinating with local authorities, said Gonzalo Gallegos, an Embassy spokesman.

Watch details on the attack »
Peshawar is the capital of Pakistan's North West Frontier Province. That province borders Afghanistan and has been the site of clashes between Pakistani authorities and Taliban and al Qaeda militants.
In August, the principal officer of the U.S. Consulate in Peshawar, Lynne Tracy, came under fire as she traveled to work in Peshawar, but she was not hurt.
On Tuesday, a suicide bomber in Peshawar struck outside a sports stadium, killing three and injuring 11.
The U.S. government prohibits its employees from staying in or frequenting major hotels in Peshawar, as well as in the cities of Islamabad, Karachi and Lahore. The U.S. government has also advised its employees to avoid public restaurants in Peshawar, Islamabad and Karachi.
E-mail to a friend

All About Pakistan • Afghanistan • The Taliban • Al Qaeda