WASHINGTON (CNN) -- North Korea must allow international inspectors to take samples from its main nuclear complex as part of an agreement to verify its past nuclear activities, a U.S. spokesman said Wednesday.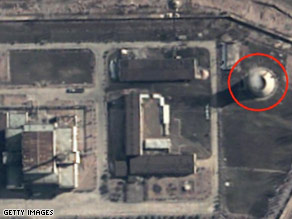 A satellite view of the nuclear facility at Yongbyon.
"We want to do what we can with our other six-party allies to make sure that the North adheres to what it agreed to do," State Department spokesman Robert Wood said.
The spokesman would not confirm media reports, quoting North Korea's foreign ministry, that North Korea is limiting international inspectors' access to its nuclear sites.
According to the reports, the government is only allowing inspectors to visit the main nuclear facility at Yongbyon where they are only allowed to view documents and interview scientists -- not take samples.
Wood said the United States has not received word from Pyongyang about such a move, but said that the press reports were concerning.
He did admit that "it's a challenge dealing with the North."
"I'm not going to kid you that, you know, this has been an easy process," the spokesman said. "It certainly hasn't been."
Don't Miss
According to the media reports, Pyongyang said inspections will take place only after it receives all of the 1 million tons of heavy fuel oil promised by its partners in the six-party talks -- the United States, China, Japan, South Korea and Russia.
Wood said North Korea will have received 500,000 metric tons of heavy fuel oil from the United States by early December.
If North Korea is preventing inspectors from taking samples at its nuclear facilities, such a move would put a snag into efforts to get the reclusive communist state to disarm.
It would also contradict a recent announcement by the United States about a breakthrough deal with North Korea about how to verify its nuclear past.
Last month, Washington removed North Korea from its list of state sponsors of terrorism in return for North Korea agreeing to a "verification protocol" -- allowing the U.S. and its allies to check whether North Korea has revealed all its nuclear secrets.
Wood said the verification agreement "clearly stated" experts could conduct sampling.
"It was agreed that experts could do this," Wood said. "It's an important element of the verification process."
But the six parties involved in the nuclear negotiations have not signed the verification protocol. Diplomatic sources say the problem is that North Korea is not eager to put anything in writing, which makes it difficult to hold them accountable.
Last month, North Korea resumed the process of dismantling its nuclear reactor at Yongbyon, once again granting access to inspectors from the U.N. nuclear watchdog, the International Atomic Energy Agency.
Inspectors at the site reported at the time that North Korea had removed about 60 percent of the spent fuel rods at the reactor.
North Korea publicly declared its activities at Yongbyon since 1986 in June, admitting that it had produced enough plutonium for about seven nuclear bombs. Soon after, North Korea publicly destroyed a water cooling tower at Yongbyon and vowed to completely dismantle the Yongbyon nuclear complex by October.
E-mail to a friend

From CNN State Department Producer Elise Labott.
All About North Korea • South Korea • Nuclear Proliferation • Yongbyon