By Peter Bergen
CNN National Security Analyst

WASHINGTON (CNN) -- A classified review of U.S. policy in Afghanistan is likely to judge that the United States is losing ground there, according to a government official involved with preparing the review.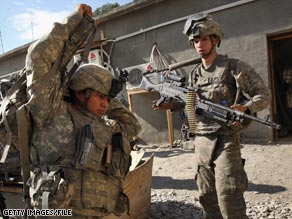 The review is likely to say the U.S. doesn't have forces for an Iraq-style "surge."
The review, under way since September 20 and led by Lt. Gen. Douglas E. Lute, the senior National Security Council official responsible for Afghanistan and Iraq, has yet to reach any definitive conclusions. But according to one of the participants in the review there was no disagreement among the 24 government agencies that participated that Afghanistan is in a "dire situation."
The official involved in preparing the review said participants at a recent private meeting discussed developments in Afghanistan including:
• Violence is up 543 percent in the last five years,
• Drug cultivation is up 100 percent since 2003, and
• Afghan support for international forces in Afghanistan is down by 33 percent in the past few months.
Those statistics came from polling data collected for the U.S. government, the official said.
The review also is likely to conclude that the United States does not have sufficient forces for an Iraq-style "surge" in Afghanistan. While President-elect Barack Obama has talked about the necessity of sending a substantial force to Afghanistan, the review's initial assessment suggests, according to the official, that the largest number of additional forces that could be mustered there in the next few months is several thousand.
According to a U.S. official familiar with troop deployments, even if Obama pulled substantial numbers of American soldiers out of Iraq the day he comes into office on January 20, 2009, and redeployed them immediately to Afghanistan, they wouldn't arrive there until June or July 2009 because of the complicated logistics of redeploying.
Don't Miss
That would be too late, because the spring will bring new Afghan fighting after a winter lull. Those redeployed soldiers would not arrive there in time for renewed fighting, that official said.
Also, those soldiers would not arrive in time to provide much-needed security in the run-up for the presidential election that is scheduled for August 2009, a critical moment for Afghanistan as President Hamid Karzai's five-year term ends.
Gen. David Petraeus, who took over last week as head of U.S. Central Command, is overseeing his own review across the 20 countries that make up the command's area of operations in the Middle East and Asia.
A similar review he oversaw in 2007 helped to change the course of U.S. policy in Iraq. The new review is being led by Col. H.R. McMaster, an expert on counterinsurgency, who also led Petraeus' Iraq policy review.
The new Central Command analysis, conducted by dozens of experts from across the government, focuses in particular on likely hot spots for the next administration, including Afghanistan, Pakistan and Iran, according to three U.S. officials familiar with the review.
The Petraeus review will be completed in February 2009.
E-mail to a friend

All About U.S. Armed Forces • Afghanistan