By CNN Senior International Correspondent Nic Robertson
(CNN) -- Since Afghan officials met with former Taliban leaders in Mecca, Saudi Arabia a month ago the drum beat of hammering out a political deal with the Taliban rather than smashing them militarily has been growing steadily.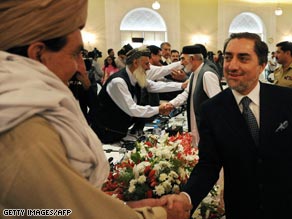 Afghan and Pakistan tribal leader at a jirga Tuesday that decided to seek talks with the Taliban.
Two days of talks in Pakistan's capital Islamabad between Afghan and Pakistani officials and tribal leaders have just concluded with an appeal to the Taliban command, come forward and discuss the war.
In the United States leaks from closed door debate both political and military are hinting ever more strongly that talks with some Taliban are on the cards.
Why now, why at all? Like all conflicts the Afghan/Pakistan regional war must end. The question is how? Both sides seem to accept a military victory is not around the corner and that means talks move higher up the agenda.
This doesn't mean everyone is on the same page. The U.S. still has a $10 million dollar bounty on Mullah Omar, the Taliban leader's head. They want him for giving sanctuary to Osama bin Laden.
The Afghan government seems to think Omar is the lesser of several evils, not as radical as some young wilder al Qaeda inspired Taliban leaders, and are offering him a way back home.
And the Saudis, who brokered the Mecca meeting, want a commitment from Omar to end his association with bin Laden before he can participate in peace talks.
According to sources close to the talks in Mecca, the Taliban representatives recognize they can't defeat U.S. military might.
Not so long ago U.S. Joint Chief of Staff Admiral Mike Mullen raised concerns the war in Afghanistan is not going well.
The U.S. is fighting a counterinsurgency in Afghanistan and additional troops, while useful as Afghan security forces are built up, can also be counterproductive.
Afghan tolerance for an international force is finite -- they know they need help with security but collateral civilian casualties from errant NATO and U.S. missiles don't just inflame passions, they are political liability for the Afghan leadership.
Don't Miss
Afghan President Hamid Karzai is up for reelection next year. To win, he must look independent of the U.S. Paradoxically, ask any Afghan who they think will win and they'll tell you "whoever the U.S. wants."
The bottom line right now, there is a lot at stake for all the players to begin winding the war down.
No one expects quick results. The reality is 30 years of conflict won't be wrapped up overnight but the change in debate over the past month about the way forward is still a seismic shift.
Omar, who is in exile in Pakistan, has told his fighters to avoid civilian casualties -- a clear delineation with al Qaeda's suicide, kill all bombing tactics.
Nevertheless it's very hard to see how you get him to reconcile his differences with a U.S.-backed government in Kabul. His demand is for foreign forces, which essentially keep the Karzai government in power, to leave Afghanistan.
But as the U.S. and Afghan governments are fighting the war side by side, if the Afghan government is talking to the Taliban, inviting leaders like Omar to enter a peace process, the U.S. military must develop options that can keep pace with that political direction.
Lessons learned in Iraq now appear to offer solutions to U.S. military commanders.
Work with tribes and insurgents. In this case the Taliban, to isolate and defeat the hardcore radicals like al Qaeda. Although Iraq and Afghanistan are vastly different, the scale, complexity and history of the problems are far worse in Afghanistan. The U.S. does now seem to be considering this direction.
The other lessons of Iraq like surging troops seem to hold less attraction. Afghanistan is just so big, so rural, so under developed there just aren't the number of troops available to make it work.
Standing up Afghan national security forces will take far longer than in Iraq too. Literacy is low and the centrally run forces were last effective, if ever, over a generation ago.
Standing up local security forces similar to Iraq's awakening councils is being discussed but its detractors say it risks regressing to warlord regional rather than national mentality.
In Iraq the solutions were all about need and expediency. The same forces are at work in Afghanistan, need and expediency.
To win militarily is a generational fight no one can afford. To talk may yet offer something to everyone.
E-mail to a friend

All About Afghanistan • The Taliban • Pakistan • Al Qaeda