KABUL, Afghanistan (CNN) -- A U.S. helicopter was shot down in Afghanistan on Monday, but none of the 10 soldiers on board were killed, according to a U.S. military spokesman.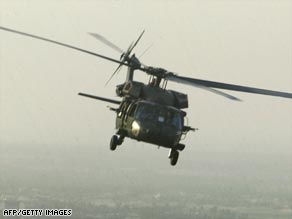 File image of U.S. UH-60 helicopter in action.
The Taliban claimed that its fighters used a rocket-propelled grenade launcher to shoot down a U.S. UH-60 helicopter in the Wardak province, about 30 miles (50km) west of Kabul.
Maj. John Redfield, a U.S. military spokesman, told CNN a coalition helicopter went down in the Wardak province after an exchange of fire with enemy on the ground.
All 10 soldiers on board were picked up and taken to safety, he said. He could not say if any were injured.
Meanwhile, a suicide bomber on Monday killed two soldiers and wounded three others in northern Afghanistan, a spokesman for the U.S. military in Afghanistan said.
The spokesman provided no further details. An Afghan official said the incident took place as U.S. officials gathered to meet with the police chief in Pul-e-Khumri in Baghlan province. One American soldier and an Afghan child were killed in the attack, Afghan officials said.
The Taliban claimed responsibility for the attack.
Provincial Governor Abdul Jabar Haqbeen said a man wearing a police uniform detonated his explosive-filled vest when Afghan and American soldiers stopped him from entering the police chief's office.
The chief and his American advisers were meeting inside at the time, Haqbeen said. The bomber also died in the attack, which wounded four police officers, said Abdul Rahman Sayed Khaili, the province's police chief.
Pul-e-Khumri is located about 130 miles (209 km) north of the capital, Kabul.
Attacks in northern Afghanistan are rare where militants have, until now, been relatively inactive. But officials say they are beginning to see a rise in incidents in the region and believe insurgents are gaining the support of the Pashtun minority there.
E-mail to a friend

Journalist Farhad Peikar contributed to this report.