(CNN) -- Polyandry is a form of polygamy where a woman is married to two or more husbands at the same time.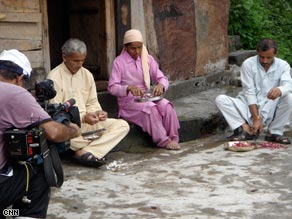 Kundar Singh Pundir, left, and his brother Amar, right, share Indira Devi, centre, as their wife.
Increasingly rare, polyandry has been predominantly practised in Asia, specifically in the Himalayan region.
It has been or still is practised in India, Tibet, Nepal, Bhutan, Sri Lanka, parts of the Arctic, areas of Mongolia and in some African and American indigenous groups. It is also thought to have been practised in some Polynesian communities.
It comes in two forms: fraternal polyandry, where brothers marry the same woman, and non-fraternal in which the husbands are not related.
Polyandry has been outlawed in most countries where it has been practised, though it is still socially acceptable.

Watch interview with men who share a wife »
It is normally seen as a way to protect small family land holdings and assets from being divided.
Also, in many countries one of the husbands is often away for long periods working.
Typically, the men have sexual relations with the woman but the paternity of any children is not debated -- they are raised by all the parents.
E-mail to a friend