SEOUL, South Korea (CNN) -- North Korea said Sunday it will immediately resume work to disable its nuclear plants after the United States removed it from a list of states that sponsor terrorism.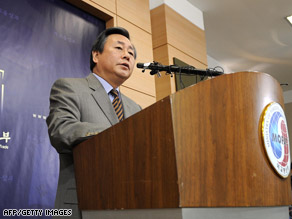 South Korean nuclear envoy Kim Sook speaks to reporters Sunday in Seoul.
North Korea's foreign ministry said it welcomed the U.S. move and would give international inspectors access to its main Yongbyon nuclear facility to oversee the crisis.
"We welcomed Washington's moves to follow through on their responsibilities according to the agreement reached," a spokesman for the country's foreign ministry said in a statement carried by the (North) Korea Central News Agency.
In a version of the statement carried by South Korea's Yonhap news agency, North Korea also said it will now resume disabling its nuclear plants.
"With the move by the United States we will also fulfill our 'action for action' principle and resume the disabling of the (Yongbyon) nuclear facilities and allow inspectors from the United States and the IAEA (International Atomic Energy Agency) to resume their responsibilities," the statement said.
North Korea halted the dismantling of the plutonium-producing plants in August after a stalemate over verification measures.

Watch Pyongyang decide to halt the disabling »
Washington had said it would not delist North Korea until Pyongyang agreed to set up an internationally recognizable mechanism to verify it was revealing all its nuclear secrets. North Korea rejected that provision.

Watch the U.S. announcement »
On Saturday, the United States removed North Korea from the list of terrorism sponsors after it said the two countries reached agreement on a number of verification measures.
These include participation by all members of the six-party talks, the role of the U.N. nuclear watchdog agency, access to all of North Korea's nuclear facilities and what procedures would be used in the verification process.
Participants in the six-party talks, besides the United States and North Korea, are South Korea, China, Japan and Russia.
Kim Sook -- South Korea's chief envoy to the international disarmament talks with North Korea -- said the move by the United States "completely reverses" the communist nation's decision to halt its dismantling process.
"I understand that with the U.S. announcement ... the North has also verified that it will immediately start the disablement process," Kim said before North Korea released its statement.
"And while it is Sunday here, I expect the North to immediately resume work to disable Yongbyon."
Kim added: "(The) South Korean government believes that these moves will help get the six-party talks back on track and ultimately help get North Korea to give up its nuclear program."
North Korea was added to the list of state sponsors of terrorism in 1988, the fourth country to be added. Cuba, Syria, Sudan and Iran remain on the list.

View details about countries on the list »
Countries designated as state sponsors of terrorism are subject to limitations on foreign aid, a ban on defense exports and sales, restrictions on exports of "dual use" items -- those that could be used for defense or non-defense purposes -- and a variety of financial and other restrictions.
North Korea agreed to abandon its nuclear weapons program on a promise that it receive energy aid equivalent to one million tons of heavy fuel oil from the nations involved in the disarmament talks.
In June, North Korean officials turned over to China a 60-page declaration, written in English, that details several rounds of plutonium production at the Yongbyon plant dating back to 1986.
In it, North Korea acknowledged producing roughly 40 kilograms of enriched plutonium -- enough for about seven nuclear bombs, according to the U.S. State Department.
Soon after, North Korea publicly destroyed a water cooling tower at the Yongbyon facility. At the time, the country said it would completely dismantle its Yongbyon nuclear complex by October.
E-mail to a friend

Copyright 2008 CNN. All rights reserved.This material may not be published, broadcast, rewritten, or redistributed. Associated Press contributed to this report.
All About United States • Nuclear Proliferation • North Korea