(CNN) -- The Australian airline Qantas plans to offer refunds and other compensation to passengers who were on a jet that suddenly changed altitude this week, injuring 74 people, the airline said Thursday.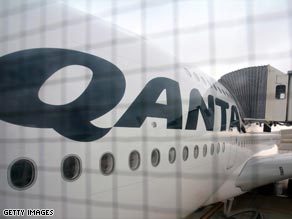 The Australian carrier has been plagued by a series of other safety issues recently.
Qantas Flight 72 was flying from Singapore to the western Australian city of Perth when a sudden change of altitude caused abrasions, contusions, fractures and other injuries. The cause of that change remains under investigation.
The pilot of the Airbus A330-300 made an emergency landing in Exmouth, Australia.
The injured included 14 who were flown to a hospital with serious injuries, 30 who had less serious injuries that nonetheless required hospitalization and another 30 who received treatment for minor injuries, Qantas said.
The airline plans to contact each passenger and will arrange to refund the cost of all Qantas travel on their itinerary, the airline told CNN Thursday. In addition, the airline said it will provide each passenger with a voucher for the value of a flight between Australia and Great Britain.

Watch passengers come off the plane »
"We will be talking to our customers directly about any other needs according to their individual circumstances -- and in particular in association with any injuries sustained as a result of this incident," the airline said.
In addition to Qantas' own probe, The Australian Transport Safety Bureau is investigating.
Don't Miss
In July, a Qantas airliner was forced to make an emergency landing in the Philippines after an exploding oxygen tank ripped a hole in the jumbo jet in mid-flight.
Since then, safety issues have plagued the airline, including the failure of one airplane's landing gear to retract and a hydraulic fuel leak on another.
E-mail to a friend

All About Australia • Qantas Airways Ltd.