SRINAGAR, Indian-controlled Kashmir (CNN) -- Indian security forces sealed off Srinagar's center Monday to thwart a rally by separatists and tighten a round-the-clock curfew now in its second day in the violence-torn Himalayan region.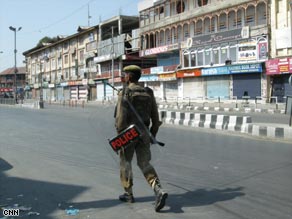 A police officer patrols the streets of Kashmir during curfew.
Armored vehicles, barbed wire and iron gates blocked all entrance and exit points to the city center Lal Chowk, or Red Square.
The curfew may be lifted Tuesday if Monday passes peacefully, an official said.
A senior separatist leader, Moulvi Omar Farooq, was placed under house arrest Monday. A day earlier, separatist leader Yasin Malik of the Jammu Kashmir Liberation Front was taken into custody.
The curfew was imposed amid unrest after officials in June unveiled plans to donate land to a Hindu shrine. Massive protests by Muslims prompted a government reversal that triggered Hindu outrage amid clashes that left 40 dead.
On September 25, Indian authorities arrested more than a dozen pro-separatist leaders and imposed a nine-day curfew to thwart a rally.
Demonstrations has subsided while Muslims observed the holy fasting month of Ramadan but had planned to rekindle their movement with Monday's rally.
Kashmir, divided between India and Pakistan and claimed by both, has been wracked by an 18-year bloody separatist campaign that authorities say has left up to 43,000 dead. Rights put the death toll at twice that.
E-mail to a friend