NEW DELHI, India (CNN) -- A stampede at a hilltop temple in western India killed more than 147 people and wounded 55 others who had gathered to celebrate the start of a religious holiday on Tuesday, police said.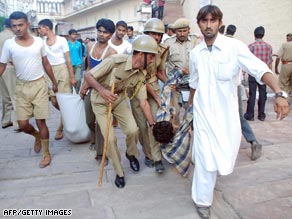 Victims of the stampede near an Indian Hindu temple are carried away from the scene.
More than 25,000 devotees were trying to reach the 15th-century temple through a steep and narrow pathway when the stampede occurred about dawn Tuesday, officials said.
The Chamunda Devi temple is inside a fort atop a hill in Jodhpur, the second-largest city and a popular tourist destination in the Indian state of Rajasthan.
Authorities do not know what prompted the rush, but state Police Chief K.S. Bains rejected as "baseless" reports that it was triggered by rumors of a bomb.
"But one thing is clear: that a cascading effect did take place as it was a slope where it happened," he said.

Watch as stampede mars religious holiday »
India has been on edge in recent days after a string of deadly bombings across the country.
The crowd had gathered to celebrate the start of Navaratri, or nine nights. For nine nights and 10 days, Hindus worship the various forms of a Hindu goddess.
Rajasthan Home Minister Gulab Chand Kataria said police had planned for the event and deployed "enough" officers for crowd control. But the massive numbers overwhelmed them.
After the stampede, devotees -- some in blood-soaked shirts -- carried the limp bodies of victims on to police vehicles while emergency officials frantically tried to tend to the wounded.
Temple stampedes are not uncommon in India during religious festivals.
Last month, more than 130 people were killed when panicked worshippers tried to flee a crowded mountaintop Hindu temple in northern India.
That stampede, which occurred on the second day of a nine-day religious festival at the Naina Devi Temple in Himachal Pradesh state, apparently was triggered by a false rumor of a landslide on the hill above the crowd.
And in January 2005, more than 250 people were trampled to death during a pilgrimage in the western state of Maharashtra.
E-mail to a friend

CNN's Harmeet Singh contributed to this report.
All About India