(CNN) -- North Korea is restoring a reactor at the key Yongbyon nuclear complex and no longer wants to be removed from a U.S. list of countries that sponsor terrorism, the South Korean news agency reported Thursday.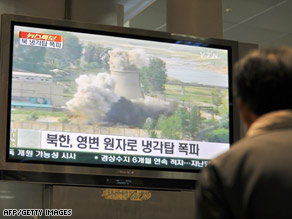 A South Korean looks at the demolition of a cooling tower at the North's Yongbyon nuclear complex, June 27, 2008.
Hyun Hak-Bong, a chief North Korean negotiator at six-nation talks, told reporters his country is "thoroughly preparing to restart" the reactor and that reporters would "know soon" when his country would do that, the Yonhap news agency said.
But a senior U.S. diplomat said the announcement could simply be a bargaining ploy in the long-running negotiations aimed at halting North Korea's nuclear program.
The United States had seen no indications North Korea is actually rebuilding its reactor, the diplomat said.

Watch as North Korea threatens to restart reactor »
Diplomats say some of the disabled parts have been moved around from storage since the latest impasse in the negotiations began, but the American diplomat believes that is a negotiating tactic.
U.S. technical experts and cameras belonging to the United Nations' International Atomic Energy Agency remain in place at Yongbyon and continue to monitor the process there.
The United States and IAEA say it would take at least a year to rebuild the cooling tower that North Korea destroyed in June as a symbolic gesture of Pyongyang's commitment to give up its nuclear program.
North Korea contends the United States has not fulfilled promises it made when Pyongyang agreed to demolish its nuclear reactor.
Earlier this week, an official with the North Korean Foreign Ministry told state-run media in North Korea that "work has been under way" for some time to restore nuclear facilities "to their original state," the South Korean news agency reported.
In Washington, the Bush administration officially reacted to the news by saying North Korea has to choose whether it wants to "keep themselves isolated" or have a better relationship with the world.
State Department Spokesman Sean McCormack confirmed that North Korea is "getting closer and closer" to restarting the reactor.
"They haven't gotten to that point yet, and we would urge them not to get to that point," he said.
Asked why the North Koreans would want to deal with the Bush administration, which has only a few months left in office, McCormack said, "I would wager that they're not going to get a much different deal from the next administration as they're getting from this administration."
North Korea has agreed to abandon its atomic weapons program on a promise that it would receive energy aid equivalent to a million tons of heavy fuel oil from nations that have participated with the North in six-party talks -- China, Japan, South Korea, Russia and the United States.
North Korea also has agreed to disable the Yongbyon nuclear complex by October in exchange for a pledge from the United States to lift some sanctions and remove North Korea from a list of countries that sponsor terrorism.
In June, North Korea declared in a 60-page document that it had produced enough plutonium since 1986 for seven nuclear bombs. The North publicly destroyed a water-cooling tower at the Yongbyon complex soon after its declaration.
Progress has stalled since then.
North Korea has said it stopped disabling the Yongbyon complex on August 14. It also said it would consider rebuilding the reactor because the United States had not removed it from a list of countries that sponsor terrorism.
A U.S. State Department spokesman, Robert Wood, said then that the North would be taking "a step backward" if it rebuilt the reactor.
On September 3, North Korea started to reassemble parts of the complex, the Yonhap news agency reported, citing diplomatic sources.
A spokesman for the U.S. National Security Council, Gordon Johndroe, said then that "the process is not moving in the direction we want to move in.
"We think North Korea is taking these steps because it has not been removed from the terrorism list," he said.
One sticking point between the United States and North Korea involves verification.
Washington has said it will not remove North Korea from the terrorism list until North Korea agrees to set up an internationally recognizable mechanism to verify its declaration.
The United States has demanded that inspectors be given the right to visit all suspected nuclear facilities without notice, the South Korean news agency said.
North Korea rejects that provision.
"The U.S. is gravely mistaken if it thinks it can make a house search in (North Korea) as it pleases just as it did in Iraq," the North Korean Foreign Ministry said in a statement carried by the North's state-run Korean Central News Agency.
E-mail to a friend

CNN Chief International Correspondent Christiane Amanpour and State Department Producer Elise Labott contributed to this report.
All About North Korea • Nuclear Proliferation • South Korea