BANGKOK, Thailand (CNN) -- Thailand's ruling People Power Party has nominated the brother-in-law of deposed leader Thaksin Shinawatra for the post of prime minister.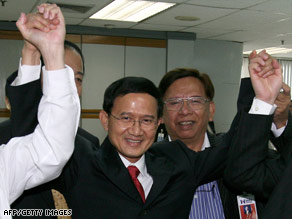 Somchai Wongsawat, center, after being nominated for the post of prime minister on Monday.
The party's executive board picked Somchai Wongsawat and will forward the name on to its coalition partners ahead of a parliamentary vote on Wednesday, a government spokesman told CNN.
Somchai is married to Thaksin's sister, and had been acting as prime minister since a constitutional court stripped Prime Minister Samak Sundaravej of power.
Even if the five coalition partners agree with the choice, Somchai's pick is likely to rankle anti-government protesters.
For weeks, the protesters -- led by the People's Alliance for Democracy -- had tried to oust Samak, accusing him of being a puppet for Thaksin.
They contended Samak was trying to amend the constitution so Thaksin does not have to face charges. Thaksin, who was ousted in a coup in 2006, returned to England this summer just as he was to appear in court in a corruption case.
Don't Miss
Last week, Thailand's Constitutional Court ruled Samak had to resign because he had violated the constitution by appearing as a paid guest on a television cooking show.
Immediately afterward, the PPP said it would re-nominate him for the position. But it was unable to convince its coalition partners to go along with the choice.
On Sunday, Somchai -- acting head of the caretaker government -- lifted a state of emergency that the capital city, Bangkok, had been under since September 2.
The emergency rule was imposed after clashes between pro- and anti-Samak supporters left one person dead.
Somchai announced the repeal of emergency rule on national television Sunday, saying the order had adversely affected the country's economy -- particularly, tourism.

Now, with the PPP's decision to pick someone related to Thaksin, the protests are unlikely to wane.
CNN could not immediately reach many of the top leaders with the People's Alliance for Democracy for their reaction to Somchai's pick. But on Sunday, party leader Sondhi Limthongkul said demonstrators will not accept a prime minister nominee from the PPP.
E-mail to a friend

CNN's Kocha Olarn contributed to this report.
All About Thailand • Thai Politics • Protests and Demonstrations • Samak Sundaravej • Thaksin Shinawatra