From Farhad Peikar
Journalist
KABUL, Afghanistan (CNN) -- A roadside bomb detonated outside the home of a provincial governor in Afghanistan's Kabul province Saturday, killing the governor and three of his bodyguards, officials said.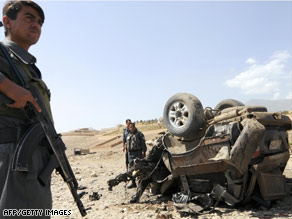 A policeman stands guard near the site where Gov. Abdullah Wardak's vehicle was attacked Saturday.
A spokesman for the Taliban took responsibility for the attack.
Afghan President Hamid Karzai condemned the attack, indicative of the growing violence plaguing the capital, and said it was a great loss for the Afghan people.
Abdullah Wardak was the governor of Logar province, about 25 miles (40 kilometers) south of the capital, Kabul.
He was killed as he left his home to go to his office in Logar, said Interior Ministry spokesman Zemaria Bashary.
The roadside bomb, which was remotely detonated, exploded about 300 yards from Wardak's home, said Abdul Razaq, police chief of the Paghman district in Kabul province. Three of Wardak's bodyguards, including one driving the vehicle carrying Wardak, were killed, Razaq said.
Taliban spokesman Zabiullah Mujahid, speaking by phone from an undisclosed location, said Taliban fighters detonated the bomb with a remote control device.
In condemning the attack, Karzai issued a statement calling Wardak a "true son of Afghanistan." He said he instructed security authorities to investigate the bombing and bring the perpetrators to justice.
Wardak lived 9 miles from Kabul.
The attack on a prominent official so close to the capital shows that insurgents can penetrate areas considered relatively secure.

Watch a U.S. military chief say Afghanistan poses a "cause for concern" »
Afghan governors have been the target of attacks before, but the last time a governor was killed was September 2006, when Abdul Hakim Taniwal, governor of the eastern Paktia province, was killed by a suicide bomber as he left his office.
A bombing also struck Taniwal's funeral a day later.
E-mail to a friend

All About The Taliban • Afghanistan • Hamid Karzai