COLOMBO, Sri Lanka (CNN) -- Sri Lanka's military said Tuesday it shot down a plane used by the Tamil Tiger rebels, a small victory for the government in the country's ongoing civil war.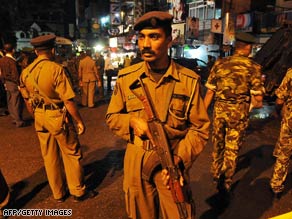 Police cordon off a street in Colombo on Monday following an explosion that injured at least 10.
However, the Tamil Tigers disputed the claim, saying its aircraft safely returned home.
The single-engine, four-seater plane was gunned down as the rebels attacked a military base in Vavuniya, the northernmost town under government control, an Air Force official said.
The attack on the base occurred at about 3:20 a.m. (5:50 p.m. ET Monday), killing six soldiers, the official said.
The Sri Lankan government said authorities found the bodies of 10 rebel fighters, but the number of casualties from the plane was not immediately known.
The Tigers said in a statement the attack was on a radar station, which it said was destroyed, and claimed at least 20 Sri Lankan soldiers were killed. The Tigers confirmed 10 of its soldiers were killed.
In the past, both sides have exaggerated accounts of military operations.
Also on Tuesday, the government asked United Nations agencies and non-governmental organizations to leave parts of the northern Wanni region; security sources told CNN the order was a prelude to a government bombing campaign of rebel positions there.
The fighting in Sri Lanka pits government forces in a country dominated by the Sinhalese ethnic group against rebels from the Tamil minority.
The rebels, formally known as the Liberation Tigers of Tamil Eelam (LTTE), are fighting for the creation of an independent nation, citing discrimination by the Sinhalese.
More than 70,000 people have been killed in the conflict, according to AP reports.
E-mail to a friend

Journalist Iqbal Athas contributed to this report.
Copyright 2008 CNN. All rights reserved.This material may not be published, broadcast, rewritten, or redistributed. Associated Press contributed to this report.
All About Sri Lanka • War and Conflict