From Barbara Starr
CNN Pentagon Correspondent

WASHINGTON (CNN) -- A military field investigation of an American airstrike in Afghanistan is largely completed and there is no evidence for Afghan claims that as many as 90 civilians were killed, according to a senior U.S. defense official familiar with the findings.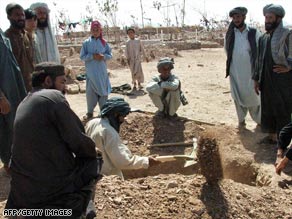 An Afghan man prepares a grave last week after a deadly U.S. airstrike in Afghanistan's Herat province.
"We have come up with the same conclusions we did several days ago," the official said. That initial U.S. finding was that 25 militants and five civilians were killed, according to the U.S. military.
The U.S. findings will now be presented to the Afghan government, the official said.
An Afghan investigation, completed Sunday, concluded that more than 90 civilians -- most of them children -- were killed Friday as a result of a U.S. airstrike in the western Afghan province of Herat.
That conclusion prompted Afghan ministers to demand a review of international troops within its borders. After convening on Monday morning, Afghanistan's Council of Ministers called on the Ministries of Defense and Foreign Affairs to start negotiating a "status of forces" agreement with international forces -- which include U.S. and NATO troops.
The council also asked that the ministries demand the international forces halt all airstrikes on civilian targets, as well as house searches that are not coordinated with Afghan authorities, and the illegal detention of civilians.
That same day, Afghan President Hamid Karzai announced that he fired two military commanders in the wake of the deadly strike, including Gen. Jalandar Shah, the Afghan army's corps commander for western Afghanistan.
Karzai blamed U.S.-led coalition forces for failing to coordinate their attack with the Afghan army. But the coalition said the airstrike was called in by Afghan and coalition troops as they embarked on a raid to arrest a Taliban commander in Shindand.
Insurgents fired on the soldiers with small arms and rocket-propelled grenades, and troops responded with their own small-arms fire and called in the airstrike, killing 30 insurgents -- including Mullah Sadiq, a known Taliban commander, coalition forces said.
A U.S. military official, who declined to be named citing the ongoing investigation, cast doubt on reports that 76 people in one room died in the strike while reciting Koranic verses at 1 a.m.
The official said there were not even 50 children in the entire village.
He said the airstrike was on a legitimate target, noting that coalition forces found a weapons cache at the site of the airstrike -- including AK-47s, 4,000 rounds of ammunition, and bomb-making materials -- as well as thousands of dollars in U.S. currency.
E-mail to a friend

All About Afghanistan • Afghanistan War • Hamid Karzai