WASHINGTON (CNN) -- The U.S. Marine commander on Wednesday warned of a "growing" insurgent threat in Afghanistan, but he said forces would have to be cut in Iraq to send more Marines to Afghanistan.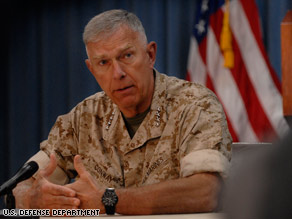 Marines could be pulled from Iraq's Anbar province, Gen. James Conway said Wednesday.
"To do more in Afghanistan, our Marines have got to see relief elsewhere," said Gen. James Conway in a briefing for Pentagon reporters.
Conway said the Corps' two regimental combat teams -- about 10,000 Marines -- in Iraq's Anbar province could be removed as there are only two or three insurgent attacks a day in what was once the hotbed of the Iraqi insurgency.
The U.S.-led coalition is scheduled to hand over security control in Anbar to Iraqi troops next week.
Despite the progress, Conway said, he doesn't expect any decisions on troop withdrawals until Gen. David Petraeus -- the head of the U.S. military in Iraq -- makes his recommendations on troop deployment in Iraq to President Bush and Defense Secretary Robert Gates.
There are more than 3,000 Marines in Afghanistan, and Conway said that the Marine Corps would be willing to help bolster the fight against the Taliban in that country.
"I think that a battalion of Marines in Afghanistan count for more than a battalion of Marines in Iraq, if you will, just in terms of the impact that they can have," he said.
E-mail to a friend

All About Anbar Province • Iraq • Afghanistan