(CNN) -- The Dalai Lama, Tibet's spiritual leader is suffering from exhaustion and has canceled his international trips for the next three weeks, according to his Web site.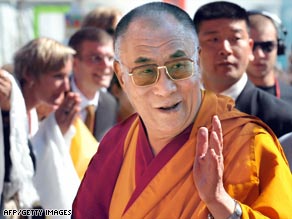 The Tibetan spiritual leader has canceled his travel plans.
"His Holiness the Dalai Lama has been experiencing some discomfort in the past couple of days," a statement on the side said.
The statment added that doctors put his condition down to exhaustion and have advised him to cancel his engagements pending the results of medical tests.
It said planned trips to Mexico and the Dominican Republic were now shelved.
The 73-year-old Nobel laureate last week inaugurated a Buddhist temple in the south of France and met with French first lady Carla Sarkozy.
"The Dalai Lama is fine, he's just exhausted. He has had a hectic schedule for the last year, with events scheduled almost every day," Tempa Tshering, a representative of the Dalai Lama in Delhi, India, told CNN.

He added that the Dalai Lama was "just postponing" the trips he had scheduled for the next three weeks, and will take some time off in Dharamsala, India -- the home of the self-proclaimed Tibetan government in exile.

The Dalai Lama's press secretary, Tenzing Takla, told CNN the spiritual leader "has a little bit of discomfort in his stomach. He is going for a check up now."
The Dalai Lama fled to India from Tibet in 1959 after Chinese troops crushed an attempted uprising.
He has spent most of his life campaigning for the rights of Tibet's citizens, angering Beijing, which accuses him of trying to foment violent rebellion in the Himalayan territory.
E-mail to a friend