From Elise Labott and Charley Keyes
CNN
WASHINGTON (CNN) -- Bush administration officials are angrily questioning whether a senior U.S. diplomat has interfered in Pakistani politics.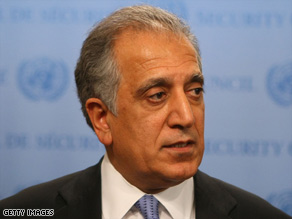 United States U.N. envoy Zalmay Khalilzad has angered Bush officials by meddling in Pakistani politics, they say.
The U.S. ambassador to the United Nations, Zalmay Khalilzad, is drawing heat over unauthorized contact he has had with Asif Ali Zardari, the widower of former Prime Minister Benazir Bhutto and a possible contender to succeed Pervez Musharraf as president of Pakistan.
Khalilzad has been speaking several times a week for the past few months with Zardari, the leader of the Pakistan's People's Party, administration officials said.
Official U.S. policy is to remain neutral in Pakistan's political turmoil and the presidential campaign to succeed Musharraf. Khalilzad's conduct has raised concern among officials that the United States could be perceived as taking sides since Zardari is considered to be his party's candidate for the presidency.
Khalilzad's job as ambassador to the United Nations does not give him any authority over the U.S. relationship with Pakistan, which is handled by Deputy Secretary of State John Negroponte and Assistant Secretary of State Richard Boucher. Both were angry over the ambassador's behavior, the officials said.
Boucher learned directly from Zardari in a phone call that Khalilzad was providing him "advice and help."
"Can I ask what sort of 'advice and help' you are providing?" Boucher wrote in an angrily worded e-mail to Khalilzad last week.
"What sort of channel is this, governmental, private, personnel?" Boucher asked. "Please advise and help me so that I understand what's going on here."
The story about Khalilzad's conduct first appeared in The New York Times. A copy of the e-mail was also provided to CNN by an administration official who had received a copy.
Officials said that Khalilzad was planning to have a private meeting with Zardari next week, while in Dubai on vacation, before he was confronted about his unauthorized contacts.
"Why do I have to learn about this from Asif after it's all set up?" Boucher wrote in the e-mail, referring to the planned meeting.
"We have maintained a public line that we are not involved in the politics or the deals," Boucher wrote to Khalilzad. "Can I say that honestly if you're providing 'advice and help'?"
Khalilzad's spokesman, Richard A. Grenell, said the ambassador had been a friend of Zardari's for years.
"Ambassador Khalilzad had planned to meet socially with Zardari during his personal vacation. But because Zardari is now a presidential candidate, Ambassador Khalilzad postponed the meeting after consulting with senior State Department officials and Zardari himself," said Grenell, the spokesman for the U.S. mission to the United Nations.
State Department deputy spokesman Robert Wood acknowledged that Khalilzad "has many contacts in the south Asia region" and "talks to various leaders."
Secretary of State Condoleezza Rice and President Bush "respect his counsel," Wood said of Khalilzad.
Khalilzad is known for his diplomatic flair and ability to help mediate between various political factions. He was reported to have played a key role helping resolve Afghanistan's Loya Jirga after the fall of the Taliban and was widely credited with helping Iraq's warring Shiite and Sunni factions begin a political dialogue.
But he was just as notorious in State Department circles for unauthorized contacts, which officials have described as "freelancing."
Khalilzad, Afghan by birth, was the Bush administration's first ambassador to Afghanistan and has kept in close touch with Afghan officials, much to the chagrin of the current U.S. ambassador to that nation, William Wood.
Khalilzad has denied speculation that he may try to succeed Afghan President Hamid Karzai. But U.S. officials have said Khalilzad has sought every opportunity to undermine Karzai and speak out against his administration.
"Zal has been a voice of strong criticism that goes way beyond U.S. policy of the government of Karzai, and that opinion reflects his personal view," one administration official said.
Officials say Khalilzad has been repeatedly warned about meddling in Pakistan's politics.
"This wasn't the first time," one official said of the recent contacts with Zardari. "This has been a problem going back two years on the Pakistan account."
Khalilzad had a close relationship with Bhutto before her assassination in December and even flew with her on a private jet to a policy conference last summer in Aspen, Colorado.
Officials said his unauthorized contacts with Bhutto date to fall 2006, when she was attempting to stage a political comeback amid challenges from Pakistan's supreme court about the legitimacy of Musharraf's rule. According to the officials, Khalilzad nurtured Bhutto's alliance with former Prime Minister Nawaz Sharif.
By April 2007, officials said Boucher found out about regular contacts between Khalilzad and Bhutto and raised the issue with the ambassador as well as with Negroponte. When the deputy secretary raised the issue with Khalilzad, the ambassador called the discussions "social contacts" and acknowledged the political sensitivities but offered to pass any messages to Bhutto that the administration wanted to send.
Mere days after he was warned by Negroponte to "cease and desist," the ambassador was seen at dinner with Bhutto in New York. The contacts with Zardari intensified after Bhutto's assassination, culminating in Zardari's acknowledgment that Khalilzad had been advising him.
Lisa Curtis, a Pakistan analyst at the Heritage Foundation, called the Bush administration's decision to end Khalilzad's contacts with Zardari a wise one but said they should have ended when Zardari returned to a position of power in Pakistan.
"The Pakistan political situation is highly unstable right now, and the last thing the U.S. needs is for it to become the central focus of that instability through accusations that it is propping up or scheming behind the scenes with one of the major political players," Curtis said. "Pakistani leaders are also guilty of putting too much attention on currying favor with U.S. leaders rather than focusing on governing their own country and dealing with the myriad of challenges there."
It was unclear whether Khalilzad would face any disciplinary action for his violations. State Department spokesman Wood said Rice "has confidence in Ambassador Khalilzad, no question."
But some officials speculated that this time Khalilzad's "freelancing" may have gone too far.
"He is the former ambassador to Iraq and Afghanistan. His close relationship to the president has been acknowledged," one official said. "You are a player. And if another ... leader is looking to you for help and advice, they have to assume it is coming from the upper echelons of the government.
"It is irresponsible to engage in that dialogue while you are a sitting official and taking an oath to be a representative of the U.S. government."
E-mail to a friend

All About Pakistan • Zalmay Khalilzad • Benazir Bhutto