(CNN) -- U.N. envoy Ibrahim Gambari wrapped up a six-day visit to Myanmar Saturday, where he met with the ruling military junta and the party of detained pro-democracy leader Aung San Suu Kyi.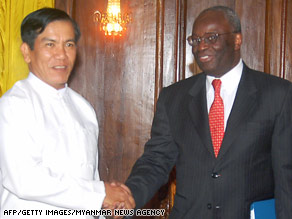 Myanmar Foreign Minister Nyan Win and U.N. envoy Ibrahim Gambari shake hands in Yangon last Monday.
Earlier in the week, a meeting between the him and Aung San Suu Kyi was canceled after she reportedly fell ill. However, U.N. spokesman Edoardo Bellando said Gambari met with her NLD party twice.
Myanmar's military rulers recently extended Ang San Suu Kyi's house arrest for another year, a decision that keeps her under detention for more time than the nation's law allows.
The 1991 Nobel Peace Prize winner has already been under house arrest for four and a half years, and the maximum limit is five years without charges being filed.
Aung San Suu Kyi has become the face of Myanmar's pro-democracy movement and the focus of a global campaign to free her.
The junta has has confined Suu Kyi in her home for 12 of the last 18 years. Her latest house arrest began in 2003 and has been periodically renewed.

Watch an examination of the success of Gambari's visit »
Gambari urged the party and government to resume talks soon and "made specific suggestions to that end," Bellando told CNN in an e-mail, though he didn't elaborate on the meetings. Gambari met with Prime Minister Thein Sein and other officials during the visit.
E-mail to a friend

All About Myanmar