By Steve Almasy
CNN
BEIJING, China (CNN) -- Thousands of miles from his life in California, Mal Whitfield is feeling at home again.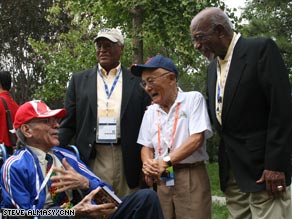 Mal Whitfield, left, recalls the 1948 Olympics with Herb Douglas, center, Sammy Lee and Harrison Dillard, right.
In a garden setting on a beautiful Beijing evening, Whitfield is being reunited with Olympic teammates from the days when he flew around the cinder track, winning five medals for the United States in 1948 and 1952.
Whitfield has trouble walking these days, and he spends most of his time in a wheelchair. It doesn't make him slow, just slower. He's still got plenty of energy in his 83-year-old body.
On the drive over to the Olympians Reunion Center, all he wants to talk about is how much Beijing has changed for the better since his State Department assignment here in the early 1980s.
Just inside the gate to the Prince Jun Palace, he pauses to take in the scenery, wanting to get some photos.
"It's so beautiful," he keeps saying. "Beijing is so beautiful now."
He's soon surrounded by friends from the 1948 Olympics of London, England, and some from more recent times.
Whitfield has been worried that no one would recognize him. He wears his blue jacket with the red "USA" on the back from his track days to help the others remember. It turns out to be unneeded.

Watch as Whitfield frets over his elderly appearance »
His bright eyes keep taking it all in, each new face that of an old friend, someone he shared a bond with six decades ago. There is Harrison Dillard, who like Whitfield was a track hero when track was still a huge sport in the United States.
"You look vaguely familiar," the four-time gold medalist says.
Dillard leans over to hug his friend gently, and Whitfield starts to choke up.

Watch the reunion between two former teammates »
"Come on, crybaby," Dillard says.
Don't Miss
There is Herb Douglas, who leapt to bronze in the long jump at the 1948 Olympics. And there's Sammy Lee, another teammate from '48 and the first Asian-American to win a gold medal for the United States.
The four '48ers can't stop talking, can't stop laughing. The newly reunited friends don't want to move either, and a small crowd gathers around these legends.
The group includes its own set of legends such as Tommie Smith, he of one of the most iconic Olympic moments ever, when he raised his fist in a black power salute at the 1968 Mexico City Games with teammate John Carlos. Smith is happy just to watch and listen.
The men act like they just saw each other yesterday. In fact, it's been a few years. They joke about their time at the Olympics.
"I saw you win your 800 gold medal; you never came to the diving meet," Lee yells at Whitfield.
"I was busy, man," he retorts.
Lee jokes that he is thankful that he is looking at the right side of the grass. They try to figure out how old everyone is.
"You're the baby," one octogenarian says to another.
They swap stories and tall tales and memories of the difficulties minorities had, even as war heroes. Whitfield served 27 missions in the Air Force, training for the 400 and 800 meters at night, often running on the runways after he returned from a mission.
Dillard and Douglas say the eight African-Americans on the 1948 team had a special togetherness.
"We were all trying to prove something," Dillard says.
They all helped each other, Douglas says. "And 60 years later, we're still helping each other."

Watch as other members of the 1948 team talk about the challenges they faced »
The stories keep coming. Whitfield says he wants to tell a "real" story.
"They all told good stories, can't be topped, but ..." Whitfield says, recalling how a British official asked him if he were of British heritage. Whitfield says he told the man no, but still the guy offered to introduce him to King George VI.
When they greeted each other, Whitfield reached out to shake hands and just grabbed the king's glove. There were no fingers inside.
"So I ask him, 'King, are you all right?' " Whitfield says, breaking his audience up into laughter before the outcome of the tale is even clear.
It was a different time then, the '48ers recount. There were no Michael Phelps-like bonuses, no million-dollar paydays for winning medals. There were no sponsors buying endless pairs of running shoes. Whitfield says there was a daily stipend of $5.
"You didn't compete for the material things," he says.
Whitfield ran because he loved to learn and he loved to travel. Track and field took him to more than 180 countries, whether it was as an athlete or as a State Department official who helped training programs in underdeveloped countries. He was an explorer, and Stanley Livingstone was one of his idols, he says.
Legendary high jumper Dick Fosbury, president of the World Olympians Association, said he looked up to heroes such as the medal winners in London. He said he hoped to introduce the legends to the current U.S. team members at their training center so they could learn as he did from those who helped build the U.S. track program.
"They are models to me, and hopefully we will be able to impart that on a new class of Olympians and show them the way," Fosbury says.
After the reception and despite the late hour, Whitfield and his daughter, CNN anchor Fredricka Whitfield, head over to the National Stadium to watch the evening's track program. The stadium is the most modern he's ever seen, but the 91,000 enthusiastic fans remind him of the crowds in 1948.
It was an important Olympics, he says, the first such gathering of athletes after World War II. The Olympics helped the world get back to some semblance of civil order, he says, and the fans rooted for all the athletes. They cheered for the performance.
Whitfield is now the fan, his eyes transfixed on the track. He goes unnoticed by the people around him, none aware that there is a legend among them.
It's been a long, exhausting day for Whitfield, but there is one treat left in store. Jamaica's Usain Bolt flies away from his rivals to win the 200 meters in the fastest time ever.
It's the perfect ending to a beautiful day.
E-mail to a friend

All About Beijing • Track and Field • Summer Olympics