(CNN) -- The party of assassinated Benazir Bhutto has nominated her widower to be Pakistan's next president, a party spokesman said Friday.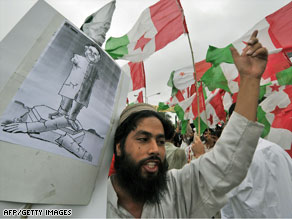 An activist marches in the support of sacked chief justice Iftikhar Muhammad Chaudhry in Lahore on July 31.
Asif Zardari will decide whether to accept the Pakistan People's Party nomination by Saturday, information minister Sherry Rehman added.
Pervez Musharraf stood down as president on Monday as the PPP and its ruling coalition partners threatened to begin impeachment proceedings.
Under Pakistan's constitution, parliament has to elect a new president within 30 days of the resignation. An election is scheduled for September 6.
Zardari moved to the fore of Pakistan politics after Bhutto's was killed by a suicide bomber while she was leaving an election rally in December 2007.
But one of the consequences of Musharraf's leadership -- the reinstating of judges he fired -- is threatening the new coalition which came to power in February.
The PPP believes the coalition should focus on picking a successor for Musharraf before it decides on reinstating the judges. Their junior partner, the Pakistan Muslim League-N, says it's more important to restore the judges.
PML-N leader Nawaz Sharif said the National Assembly will discuss the judges early next week, and predicted they would have their jobs back by Wednesday. His party has threatened to pull out of the coalition unless the judges are reinstated quickly.
Sharif, in an interview with the Wall Street Journal, said "it will be a bad day for democracy" if the judges are not restored.
"If the judges are not restored, we will perhaps be forced to sit in the opposition," Sharif said in the interview, published Thursday. "We will not try to bring the government down. But of course then we have no choice but to sit in the opposition."
Sharif believes a simple resolution followed by an executive order will be enough to restore the judges. The PPP wants constitutional changes along with a resolution, which would take longer.
The PPP told CNN it hopes the PML-N remains in the coalition.
"We will definitely try our utmost to ensure that they will not pull out because we have promised to work together to serve the country," said Farzana Raja, central coordinator for the PPP. "If they want to do something in haste, they have all the right to do that. We cannot force them to be with us. But we are trying to reach a consensus."
If Sharif's party pulls out, the coalition will likely crumble -- unless the PPP can line up enough smaller parties to keep control of parliament.
Musharraf fired some 60 judges Musharraf fired when he declared a state of emergency last November, including 14 of 18 judges who sat on the Supreme Court.
Critics say Musharraf sacked the judges because they were preparing to rule against the legitimacy of his third term in office. He had been re-elected president by a parliament stacked with his supporters, they said.
E-mail to a friend

CNN's Saeed Ahmed and Reza Sayah contributed to this report.
All About Pakistan • Pakistan Peoples Party • Pakistan Muslim League • Pervez Musharraf • Nawaz Sharif