LONDON, England (CNN) -- Former rock star and convicted child molester Gary Glitter fears for his safety after returning to the UK, his lawyer says.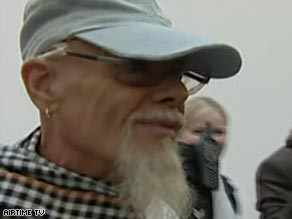 Gary Glitter pictured on his arrival at London's Heathrow airport on Friday.
British police met Glitter at London's Heathrow airport Friday after he was denied entry to Thailand and Hong Kong, an airport official confirmed.
Glitter, born Paul Gadd, served nearly three years in a Vietnam prison on a child molestation conviction and was deported Tuesday from Ho Chi Minh City.
Glitter, 64, initially tried to enter Thailand instead of continuing on to the UK but when he was barred he flew to Hong Kong, where he was also denied entry.
He returned to Thailand Thursday afternoon, but the country refused to budge from its earlier decision, a Thai immigration official told CNN.

Watch Glitter arrive at London Heathrow »
After negotiating with officials at Bangkok's airport, Glitter agreed to board Thai Airways flight TG910 for London.
His lawyer, David Corker, told reporters in London that Glitter maintained his innocence.
"He never got a fair trial," Corker said. "He did not commit the offense for which he was convicted."

Watch more on the 'danger' Glitter faces »
Glitter fears for his safety in the UK, and Corker has worked with police on a plan meant to guarantee his well-being, he said. He planned to register with authorities as an offender, Corker said.
Glitter was a glam rock institution during the 1970s -- topping the music charts multiple times in the UK and scoring a handful of minor hits in the United States.

Watch how he refused to board an earlier flight to London »
He is best known for a stadium anthem song called "Rock and Roll (Part 2)." The song -- with its one-word chorus "Hey" -- is played at professional sporting events around the world.
In March 2006, he was convicted in Vietnam of sexually abusing two Vietnamese girls when they were ages 9 and 11.

Watch how he was deported from Vietnam »
One children's advocate called for his return to London.
"It's important that Glitter comes back here and that he's carefully risk-assessed here in the UK, where we can do that," said Zoe Hilton. "It's important that we stop him traveling overseas again where he is a known risk of abusing children."
His trouble in Vietnam was foreshadowed by other tawdry acts. In 1999 he served four months in a UK prison after dozens of images of child pornography were found on his computer.
At the time, he expressed "deep regret," and then moved abroad -- first to Cuba, then to Cambodia, before surfacing in Vietnam -- where he quickly landed himself back in legal hot water.
E-mail to a friend

CNN's Kocha Olarn and Eileen Hsieh contributed to this story.
All About Vietnam • United Kingdom • Cambodia • Thailand